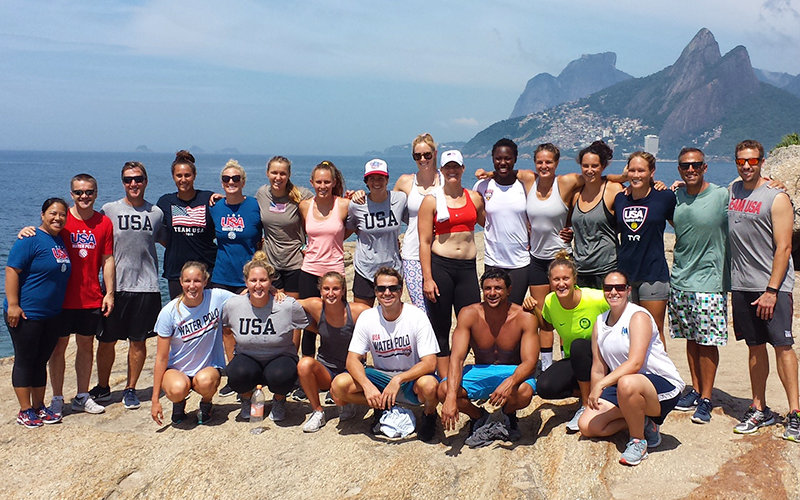 A Cal State Fullerton alumna is taking her Titan education to the 2016 Summer Olympics in Rio de Janeiro as sports medicine manager and head athletic trainer for USA Water Polo. In this role, Larnie Boquiren is in charge of evaluating and assessing injuries, designing and implementing treatment and rehabilitation plans, and providing injury prevention and recovery methods.
Boquiren earned her bachelor's degree in kinesiology, with an emphasis in athletic training, from CSUF in 2004. She completed her master's degree in sports health care from Arizona School of Health Sciences, A.T. Still University.
Why did you choose to attend CSUF for your undergraduate degree?
After spending my first two years of college at UC Irvine, I decided to transfer to Cal State Fullerton because I learned about its athletic training education program. I am attracted to the study of the human body, and the body's ability to physically and mentally develop. My degree from CSUF is the foundation of my career, not just in the sciences of athletic training, but in the art of serving and caring for people.
Can you share an example of something you learned at CSUF that has been relevant to your career?
I remember observing athletic trainer Julie Max doing an evaluation on an athlete. She has a gift of listening to people and making them feel like they are the only person in the room. Her eye contact when listening to the athlete and her physical assessment in using her hands to create connection are incredible. It always reminds me that athletic trainers work with people, not injuries.
What is your role as sports medicine manager and head athletic trainer for USA Water Polo?
I assign athletic trainers to serve during our Olympic Development Program camps and tournaments, and assist those athletic trainers in having the supplies needed to care for the youth athletes. During this Olympic year, my priority is serving the Women's Senior National Team as athletic trainer. I value the multidisciplinary approach in caring for our athletes, which involves physicians, chiropractors, acupuncturists, massage therapists, dieticians and sports performance coaches. On the road, I serve as an extension of these health care providers to maintain the athletes' care.
What is it like to travel with a sports team?
When I think about my travel experience with a sports team, the things that immediately come to mind are hard work, relationships and moments. They become your family when you are away from your own for so long. I'm incredibly blessed to work with an amazing group of women and staff, and it's an honor to attend my first Olympics as an athletic trainer. It really takes a village to care for a team and the humility to know that the success of the team can't be done by yourself.
What advice can you offer to current and future Titans?
Continue to learn what your values are in developing the best version of yourself. Your values are the intangibles in whatever you choose in life. For me, these include: trusting the process of failure and success, giving love and sharing love, having the will to do whatever it takes, and surrounding yourself with those who are driven for excellence.
2016 Olympics is a series of stories highlighting Cal State Fullerton faculty, staff and athletes connected with the Summer Olympics in Rio de Janeiro. Follow the games Aug. 5-21, and join us on social media with the #CSUFOlympics.
Related stories:
CSUF Professor Discusses LA's Bid for 2024 Games
CSUF Scholar Calls for More Gender Equity
CSUF Professor Coaches USA Men's Volleyball
CSUF Researcher Examines Crackdown on DopingCSUF Professor Preps Athletes for Mental Game
CSUF Historian Sheds Light on New Refugee Team