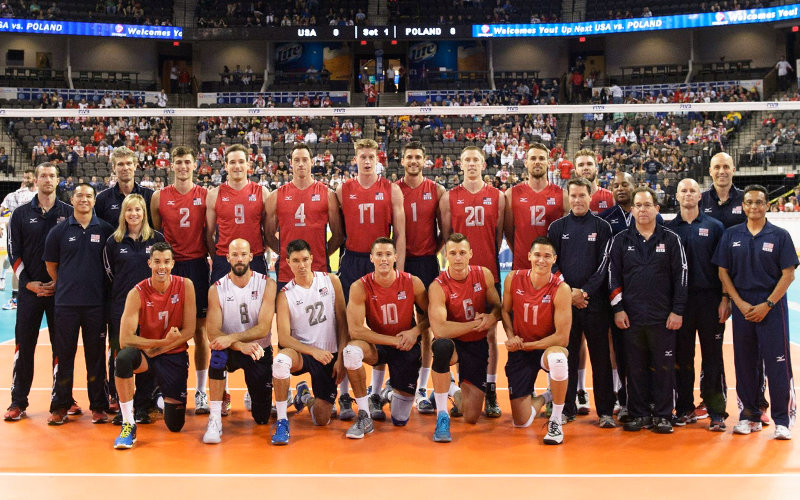 "If you want to be a coach, be a coach now."
This is what Andrea Becker, Cal State Fullerton associate professor of kinesiology, challenges the students in her coaching class to do. "Think like a coach now, behave like a coach now, take notes and study like a coach now," she says.
Guided by this mantra, Becker puts her research and theories on successful coaching techniques into action as a sport psychology coach for the USA Men's Volleyball team.
This summer, she journeys with the team to the 2016 Summer Olympics in Rio de Janeiro, where they will compete Aug. 7 to 21 against teams from Argentina, Brazil, Canada, Cuba, Egypt, France, Iran, Italy, Mexico, Poland and Russia.
"When we started out this quadrennial in 2013, we didn't know what kind of team we would have by the time we got to the Olympic season," said Becker. "A lot of people on the outside may have thought we didn't have what it takes to qualify for the Olympic games."
With three coaches, a sport psychology coach, an athletic trainer and a statistician, the team built momentum each year, eventually qualifying for the Olympics at the Fédération Internationale de Volleyball World Cup in 2015.
"In our coaching philosophies at USA Men's Volleyball, we take a very developmental and cooperative approach," said Becker. "Our goal is to develop individuals as players and people, and to help make them the best that they can be. Hopefully they also have a fun time doing it."
Developing a clear identity of who you are as a team and how you are going to win is one effective coaching strategy, says Becker.
"We have a strong idea of how we play the game," she said. "We play the game one point at a time. We are very supportive of one another as teammates. We're tough. And we're together at all times."
From an early age, Becker was intrigued by the psychology of coaching and the dynamics between coach and athlete. She pursued a career as a professor to help elevate the field for future coaches.
"Great coaching is about being consistent in who are you, what you do and how you do it," she said. "It means being the same person you are off the field as you are on the field. It means having a strong coaching philosophy and being consistent in the implementation of that philosophy over a period of time."
Successful coaches also surround themselves with highly knowledgeable people to fill in the gaps for areas that aren't their strengths, says Becker.
John Speraw, head coach for USA Men's Volleyball, sought to do just that when he recruited Becker to help his players improve their mental game.
"It's pretty special to be making my way at a time when women are just beginning to have opportunities on the men's side of athletics," said Becker. "I'm extremely grateful for the opportunity that Speraw has given me to be a part of his coaching staff."
Before heading to the Olympics, the team is competing in the 2016 FIVB World League June 16 to July 17, the most exhaustive tournament of the year.
"This team has been quite successful so far, and we're hoping to carry that success into the Olympic games," said Becker. "It's going to be tough, but it's certainly possible."
2016 Olympics is a series of stories highlighting Cal State Fullerton faculty, staff and athletes connected with the Summer Olympics in Rio de Janeiro. Follow the games Aug. 5-21, and join us on social media with the #CSUFOlympics.
Related stories:
CSUF Professor Discusses LA's Bid for 2024 GamesCSUF Alumna Makes Waves as Athletic Trainer
CSUF Scholar Calls for More Gender Equity
CSUF Researcher Examines Crackdown on Doping
CSUF Professor Preps Athletes for Mental GameCSUF Historian Sheds Light on New Refugee Team