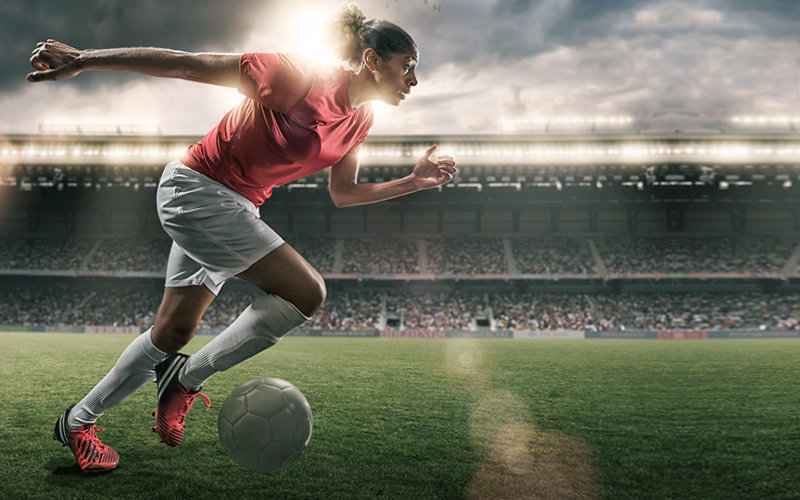 With the U.S. women's soccer and field hockey teams qualifying for the 2016 Summer Olympics in Rio de Janeiro, it's expected that more female than male athletes will compete on this year's U.S. Olympic team. And it's not the first time.
At the 2012 London Olympics, the U.S. Olympic team consisted of 270 women and 262 men. Also that year, female athletes accounted for 44.3 percent of all Olympians; women made their debut in the sport of boxing; and for the first time, Saudi Arabia, Qatar and Brunei sent female competitors to the games.
"Most people look at this information and ask why we're still arguing about the need for gender equity," said Alison Wrynn, professor of kinesiology and director of undergraduate studies and general education. "But we still haven't hit equity."
Wrynn co-authored three Women's Sports Foundation reports examining gender equity in recent Olympic games. The latest, an analysis of the 2012 London games, underscores the lack of women in Olympic leadership positions.
"Women have limited opportunities for leadership in the Olympic movement — not just in the International Olympic Committee (IOC) or the national Olympic committees, but also in the athletic federations that govern sports," said Wrynn.
In 2000, the IOC set a goal of increasing women in leadership positions in international sports organizations to 20 percent by 2005. More than a decade later, the IOC currently has 22 women, or 24.4 percent, serving on its 90-member roster. Throughout its 122-year history, the organization has never had a female president.
"Putting more women into positions of leadership allows in half of humanity who have just not been included. It brings a different perspective, and there are still so many issues to be discussed," said Wrynn, adding, "Of course, our argument is that equity is 50 percent."
Recent discussions have included uniforms, athletic facilities and pay.
For example, the Amateur International Boxing Association considered requiring women to wear skirts at the 2012 Olympics. The suggestion was widely criticized and never implemented.
"Some argued that female athletes should wear skirts because they help with mobility," said Wrynn. "My question is, 'If skirts help women move better, wouldn't they help men move better as well?'"
Last year, during its World Cup run and victory tour, the U.S. women's soccer team took a firm stance in arguing that it should not have to play games on artificial turf fields, which can lead to serious burns and injuries.
"If you follow the U.S. women's soccer team, despite their great success, they're not paid in an equitable manner," said Wrynn. "And while every single game in the men's World Cup was played on natural grass surface, the women had to play their tournament on artificial turf."
Examples like these are part of the conversation in CSUF kinesiology classes — such as sports philosophy, history and sociology — where students are taught to think critically.
"If all that you learn about is how the body moves and why it moves, but you don't understand the social and cultural context in which the body is moving, you're going to be lacking as you move forward as a professional," said Wrynn.
Wrynn, a fellow of the National Academy of Kinesiology and past editor of the Journal of Sport History, will give a free, public talk, "Succeeding Against the Odds: Women in the Olympics," at 7 p.m. July 27 at the Yorba Linda Public Library.
"I've had the unique opportunity to do this research so it's incumbent upon me to share what I've learned," she said. "I hope that when people sit down to watch the Olympics in August, they remember that the opportunities for women to compete weren't always there. And we can't stop talking about this until we truly achieve equity."
2016 Olympics is a series of stories highlighting Cal State Fullerton faculty, staff and athletes connected with the Summer Olympics in Rio de Janeiro. Follow the games Aug. 5-21, and join us on social media with the #CSUFOlympics.
Related stories:
CSUF Professor Discusses LA's Bid for 2024 GamesCSUF Alumna Makes Waves as Athletic Trainer
CSUF Professor Coaches USA Men's Volleyball
CSUF Researcher Examines Crackdown on Doping
CSUF Professor Preps Athletes for Mental Game
CSUF Historian Sheds Light on New Refugee Team