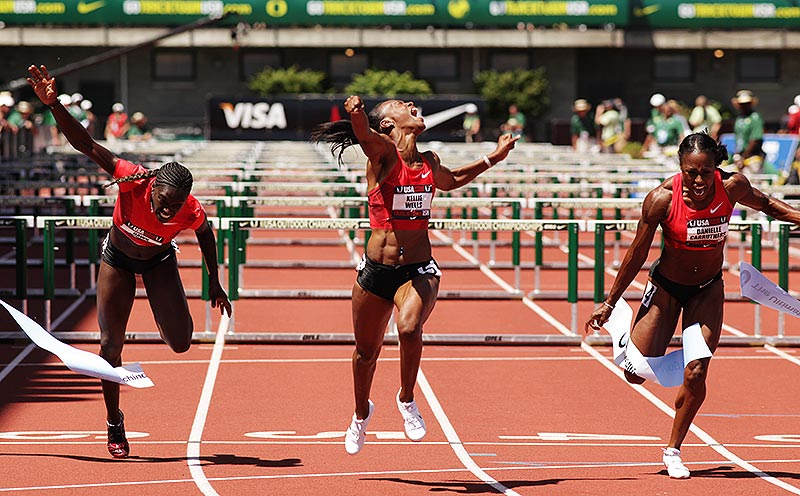 With the 2016 Summer Olympics in Rio de Janeiro just one month away, Cal State Fullerton associate professor of kinesiology Traci Statler is spending her summer training athletes for the mental rigor of the games.
For 15 years, Statler has served as a sport psychology consultant for the USA Track and Field team. She will travel alongside an estimated 120 athletes and 30 coaching and medical staff to Brazil, where they will compete in 47 Olympic track and field events scheduled for Aug. 12 to 21.
"Training for any sport or performance event usually entails four domains: mental, physical, technical and tactical," said Statler. "My job is to help athletes get mentally ready to perform their best at the Olympics."
To qualify for a spot on the Olympic team, track and field athletes must achieve an "A-level standard" according to criteria set by the International Association of Athletics Federation, and place first, second or third at the July 1-10 U.S. Olympic Team Trials in Eugene, Oregon.
"We've been working really hard for the last three years to get people ready for trials," said Statler. "It's frequently said that the U.S. Olympic team for track and field is the hardest team in the world to make because of the depth of talent in the United States."
Sport psychology consultants like Statler work with athletes to manage distraction, energy, composure, confidence, visualization and self-talk. These skills are critical for success at major events like the Olympics.
"One of the mental challenges that athletes run into is the pressure of competing on the world stage," said Statler. "They've done really well at home, they've competed domestically, they're used to dealing with competition in the United States, and then they make a world team like the Olympics.
"Learning how to navigate the spectacle of the Olympics, how to deal with that external environment and the distractions, and how to keep yourself calm and focused are massive challenges for athletes," she said.
Statler also works with Olympians on handling the instant fame that they experience.
"Within track and field specifically, there's an odd dichotomy that occurs. For three and a half years of the training cycle, very few people know who you are. You can go out in your neighborhood, you can go grocery shopping, you can go to movies and nobody recognizes you," said Statler. "And then, the Olympics happen and all of a sudden people know you because you're on television all of the time, and the news is talking about you, and the morning shows are interviewing you in the Olympic Village."
Bringing these lessons back to Cal State Fullerton, Statler hopes her work with the USA Track and Field team can illuminate the reality of sport psychology for her students.
"Whenever I teach a sport psychology class, the examples that I give are grounded in real-world experiences," she said. "I want students to understand that what we learn in the classroom aren't just theories that have no relevance to their careers — they are going to see this in the real world, and this is what it looks like outside of a textbook."
2016 Olympics is a series of stories highlighting Cal State Fullerton faculty, staff and athletes connected with the Summer Olympics in Rio de Janeiro. Follow the games Aug. 5-21, and join us on social media with the #CSUFOlympics.
Related stories:
CSUF Professor Discusses LA's Bid for 2024 GamesCSUF Alumna Makes Waves as Athletic Trainer
CSUF Scholar Calls for More Gender Equity
CSUF Professor Coaches USA Men's Volleyball
CSUF Researcher Examines Crackdown on Doping
CSUF Historian Sheds Light on New Refugee Team