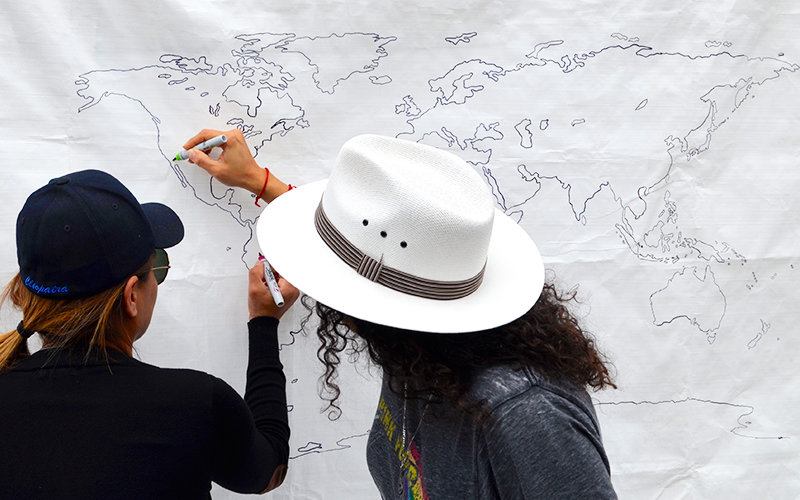 Recent visitors of the Santa Fe Springs Swap Meet might have come across a unique sight — a collective "memory tent." They could write down a recollection they had of the swap meet on a piece of tarp, which would then become part of the tent. They could "exchange" their memory for an item characteristic of the swap meet, such as a toy or candy. 
There was also a makeshift studio with a world map where they would choose a point that represented home to them, then have their picture taken — a link between the "communal neighborhood" of the swap meet and the site they called home. They'd add a memory or story to the photo, then take home a copy.
The intervention, which explored memory in relation to the swap meet, was the end project of students who chose the art track in Karen Stocker's Anthropology 350: Culture and Education course. Those who signed up for the class could choose between the traditional — writing a literature review of a chosen topic, for instance — or the art option, which focused on the research design component and was led by Amy Sánchez and Misael Díaz of Cog•Nate Collective.
"The style of learning varies for each group of students — those who chose the art option and those who selected the traditional option — as does the stage of research they take on," explains Stocker, associate professor of anthropology. "In addition to having shared class meetings and readings common to both groups of students, one group then hones in on research design and experiential learning, and the other focuses on archival research. Both groups learn about research in an in-depth manner."
Cog•Nate Collective spearheaded the collaboration, adds Stocker. The team, artists-in-residence at CSUF's Grand Central Art Center, were part of community-engagement efforts to document the history and redevelopment of downtown Santa Ana. Back then, they reached out to CSUF faculty members to gauge interest in working together "to enact what we have come to call 'public pedagogic platforms' — opportunities to teach and learn from one another in public spaces, toward a public (civic) end," explains Díaz.
After meeting with Díaz and Sánchez, says Stocker, "It was clear that some of their theoretical foundations resonated with those of the course as I had taught it in the past."
Marco Antonio Moreno '15 (B.A. psychology) took the class in fall 2014, during the first ANTH 350-Cog•Nate Collective collaboration. He helped create a trolley tour that took visitors around downtown Santa Ana as they listened to oral histories, heard live music and stopped at different cultural centers.
"The art option was designed as a measure to receive a visual and emotional representation of the conversations we were having in our classroom: What is education? Who is education for?" says Moreno. "Is education reflective of the different cultures of students that are in the room? Is education accessible to all? Why or why not?" 
This year, ANTH 350 students and Cog•Nate Collective once again conducted research — creative documentation exercises, dialogue with local experts and artist-led workshops — prior to creating the art intervention. Claudia Itzel Márquez '16 (B.F.A.art-drawing and painting, B.A. art-art history) says that part of the group's interest was to learn more about the cultural, social and economic contexts within the swap meet.
"I am an artist and community activist, so this course helped me learn new ways of engaging communities and interpreting data from an anthropological perspective," says Márquez. "The course material provides a theoretical and holistic perspective on culture and education. The art intervention option allows students to apply the theoretical frameworks that we learned about through our readings."
"This is what makes the process so exciting for us — that the form of the artistic intervention is determined by students and collaborators, and we become facilitators for making it happen," adds Sánchez.