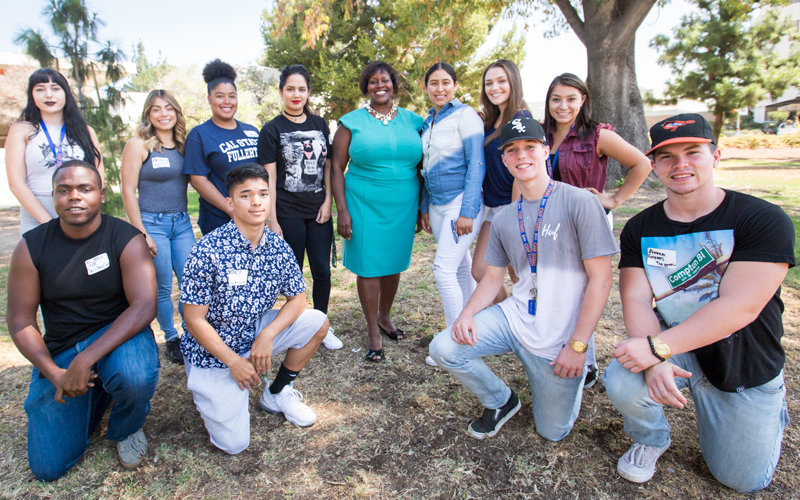 Cal State Fullerton has welcomed 14 former foster youth to the campus as this year's class of incoming Guardian Scholars.
The Guardian Scholars program awards former foster youth a full scholarship to the University and provides additional assistance to help them succeed in their educational endeavors. The program is a working partnership between the private sector and public agencies.
The program, the first of its kind, was established at Cal State Fullerton in 1998. Since then, almost 100 Guardian Scholars have earned CSUF degrees.
"Everyone thought I'd end up on drugs, in jail, or homeless," said Tamika Jones, who graduated in May with a B.A. in criminal justice and psychology. "Now my goal is to transition into law enforcement and serve as a probation officer. I'd tell the new class of scholars not to have small dreams. Have big dreams! And do not let your past define who you are today."
"I couldn't have made it to this point without Guardian Scholars," said Erica Ontiveros, a 2015 graduate of the program. "I didn't believe in myself. But because people here believed in me, I found a chance to better my life. My advice to other Guardian Scholars is to be grateful and take advantage of all the opportunities that are offered. Don't give up on yourself."
Listed below are the names/majors of the incoming class:
Andre Alvarado, pre-business administration – accounting
Alexander Alvarez, human services
Osiris Avalos, liberal studies
Matthew Braun, theatre arts
Francis Consul, pre-business administration
Kaylee Faria, undeclared
Steven Groves, pre-business administration
Jesayha Hamilton, psychology
Brandon Hanna, pre-business administration
Jesus Leon, undeclared
Daphne Love, art
Alayna Mendoza, English
Britney Rodriguez, psychology
Nuc'Shakur Rose, communications