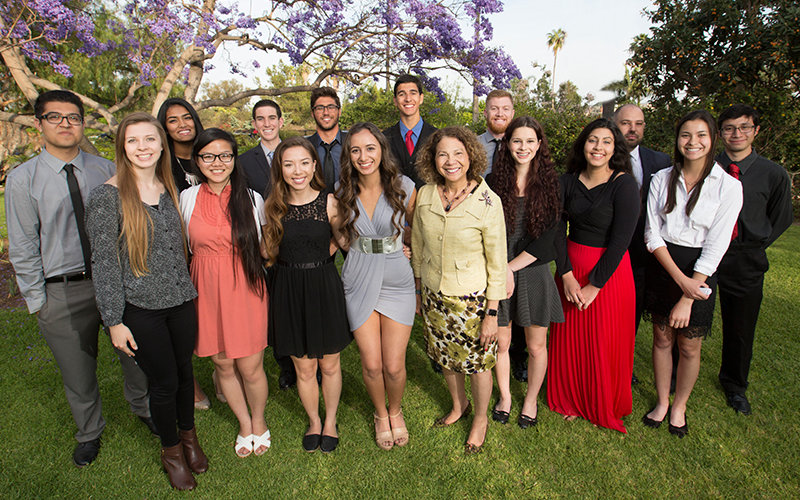 Earlier this month, 19 new President's Scholars joined Cal State Fullerton's student body. As President's Scholars, they hold the most prestigious status the University accords to incoming students.
The President's Scholars program was launched in 1979 as a comprehensive and rigorous program for high-achieving high school seniors; later, the program was extended to include military veterans entering from community college. The program offers outstanding experiences and opportunities in academics, leadership, service and mentorship. About 400 scholars have graduated from the merit-based program.
"We at Cal State Fullerton are in the business of transforming students," said Berenecea Johnson Eanes, vice president for student affairs, when the scholars were welcomed at a reception this spring. "We are grateful that you decided to spend your days with us."
"The school itself is amazing, but it feels like I'm among the elite of the college," said Zachary Pinney, who is majoring in kinesiology. "I knew that if I could get accepted to Cal State Fullerton, I would go."
Juan Pablo De La Cruz, who will be studying engineering, is the first of seven children in his family to attend college. "We're so proud of him and beyond joyful that he received the President's Scholarship," said Maria De La Cruz, Juan's mother. "He's setting a great example for his younger siblings."
This year's new scholars, home town and academic discipline, are:
Apple Valley — Aaron Aguilar, psychology, and Luke Rodriguez, political science
Brea — Haley Hunt, business administration; Jessica Kanarek, engineering; and Daniel Parahnevich, biological science
Chino Hills — Cristina Narvasa, biological science
Fullerton — Juan Pablo De La Cruz, engineering
Glendora — Kate Ryan, theatre arts
Irvine — Morgan Bibee, nursing
La Crescenta — Shawn Grinnell, nursing
Lakewood — Lina Elasmar, nursing
Placentia — Niveda Rao, biochemistry, and Caroline Vu, business administration
Rancho Cucamonga — Christopher Trevino, communications-public relations
Rowland Heights — Andy Susana Liu Peng, nursing
Whittier — Matthew Pilker, political science
Woodlake — Samantha Atherton, biological science
Incoming veterans scholars:
Fullerton — Romero Michael, computer science
Riverside — Zachary Pinney, kinesiology
The President's Scholars Program provides four-year scholarships that cover enrollment and campus-based fees, an annual stipend for books and supplies and on-campus housing. In addition, each scholar is presented a Dell laptop computer for their personal use by Titan Shops/Auxiliary Services Corp.