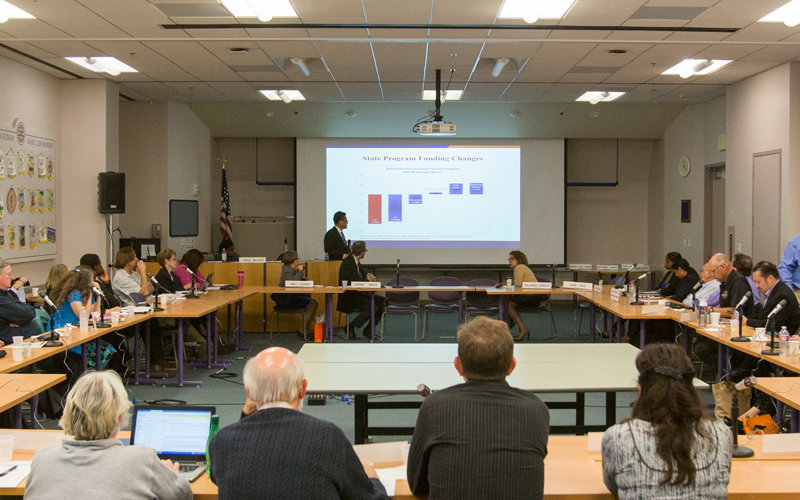 Members of the Academic Senate and their various committees will be addressing a number of issues this year, including the ongoing development of the Academic Master Plan, assessing general education and graduate learning outcomes.
"We are continuing to do those things that help students succeed," said Emily Bonny, chair of the Academic Senate and co-chair of the Academic Master Plan Committee, which recently released the second draft of the plan for review and comment.
Now into her second term as leader of the body charged with making educational and professional policy at CSUF, Bonney stressed that the Senate will be "modeling shared governance and being as collaborative as we can be."
Members of the Senate will serve on the numerous searches already underway, as well as those beginning during the 2016-17 academic year, and continuing the never-ending process of updating University Policy Statements.
"We have identified 13 that haven't been updated in 10 or more years," she explained. The senate also will continue work updating UPS 210.000 – Faculty Personnel and Procedures.
Already in the works is a senate retreat in October "where we will be addressing the RTP (retention, tenure and promotion) process," including "what is teaching and service on this campus, how should we consider research in light of the campus teaching load, and how do we handle part-time faculty. To put it another way, how can we help faculty thrive at CSUF?"
Also slated for the academic year is the issue of course repetition. "We want to help students, make the policy more predictable and add balance to the issue," said Bonney.
"We also will be moving forward in our discussions on intellectual property," she added. "We hope to be able to push out a draft policy on the issue to the floor of the senate by early in the year."
Bonney stressed that the senate will continue to be responsive to faculty concerns, on reinforcing faculty freedoms and "building bridges between the faculty and administration.
"We will be solidly engaged in helping to make Cal State Fullerton a more inclusive and engaged campus," Bonney said. "We are committed to being part of the larger community, to share and nurture shared visions for the future."