2016 Olympics
LIVING THEIR PASSION
CSUF Leads the Way in Olympic Research and Service
August 5, 2016
Two thousand years ago, the ancient Greeks began a sporting competition that would become the world's largest cultural event and a celebration of human aspirations: the Olympics.
More than 11,000 athletes from 206 countries are expected to participate in the 2016 Summer Olympics in Rio de Janeiro. Amidst several controversies — a major doping scandal, concerns over the Zika virus and polluted waters, economic and political strife — the highly anticipated
Aug. 5-21 games open tonight, calling on international spectators to take pause and be inspired by the Parade of Nations and lighting of the cauldron at Maracanã Stadium.
This year's Olympic theme, "live your passion," is an idea that Cal State Fullerton faculty, staff and students have long embraced in their scholarly and professional activities, bringing Titan spirit and pride to the global stage.
Three CSUF faculty members have dedicated their summers to training Olympians for the mental rigor of the games. Professor Lenny Wiersma serves as a sport psychology consultant for USA Swimming, while associate professors Traci Statler and Andrea Becker serve as lead sport psychology consultant for USA Track and Field and sport psychology coach for USA Men's Volleyball, respectively. Journeying with their teams to Rio, Statler and Becker will have front-row seats to the Olympic action.
At least four alumni also are participating in the Rio games. Three-time Olympics reporter Marc Stein '91 (B.A. communications) is covering Team USA basketball as senior writer for ESPN, while Larnie Boquiren '04 (B.S. kinesiology) and Jimmy Stitz '13 (M.S. kinesiology) use the skills they learned in CSUF's athletic training program in their roles as head athletic trainer for USA Water Polo and strength and conditioning coach for USA women's Volleyball. Former Titan basketball player Josh Akognon '09 (B.A. ethnic studies) represents the men's squad of Team Nigeria Basketball, joining an impressive history of Titan Olympians that dates back to the 1960 games in Rome.
Additionally, three professors are making their mark as Olympic scholars. Associate professors John Gleaves, Matt Llewellyn and assistant professor Toby Rider serve as co-directors of CSUF's Center for Sociocultural Sport and Olympic Research, one of only three such centers in the United States. The center, which will be featured in the summer/fall issue of Titan magazine, also supported a Greece Study Abroad program this summer that placed 26 kinesiology students in the heart of the Olympic birthplace.
Faculty member Alison Wrynn, a veteran historian in the field of kinesiology, continues to champion gender equity in the games and has co-authored three reports on this topic.
Collectively, these Olympic stories point to a University engaged in outstanding research, professional activity, commitment to bringing these lessons back to students, and ultimately Titans living their passion.
Titan Connections
"This is a powerful example of a journalist and his editors failing to consider the harm that could come from their story."
– Jason Shepard, chair and associate professor of communications
"After two years of working with the staff in the Kinesiology Department at CSUF, I left with a deep understanding of how great environments can be when they are filled with great people."
– Jimmy Stitz, alumnus '13 (M.S. kinesiology)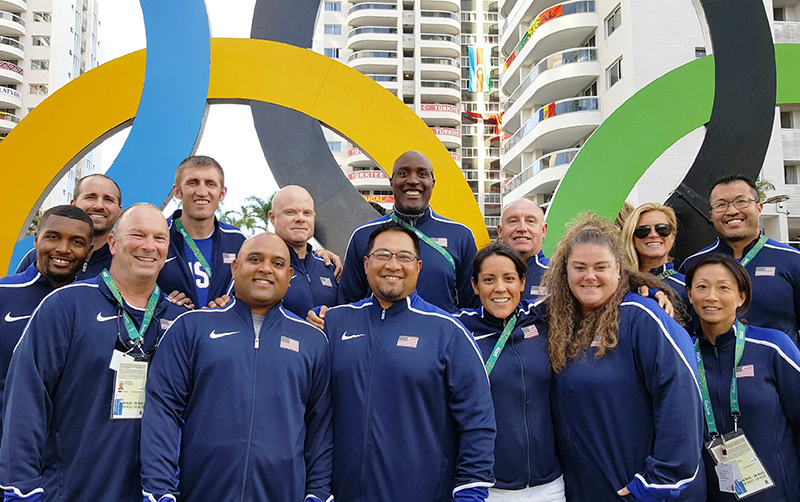 "Bronze wasn't our initial goal, but we were really proud to come home with that medal."
– Andrea Becker, associate professor of kinesiology
2016 Olympics is a series of stories highlighting Cal State Fullerton faculty, staff and athletes connected with the Summer Olympics in Rio de Janeiro. Follow the games Aug. 5-21, and join us on social media with the #CSUFOlympics.
Visit the "Summer Olympics Retrospective" exhibition at Pollak Library and Irvine Campus Library now through Aug. 21 to learn about the 1984 Summer Olympics in Los Angeles, during which CSUF's Titan Gymnasium served as the official venue for team handball.