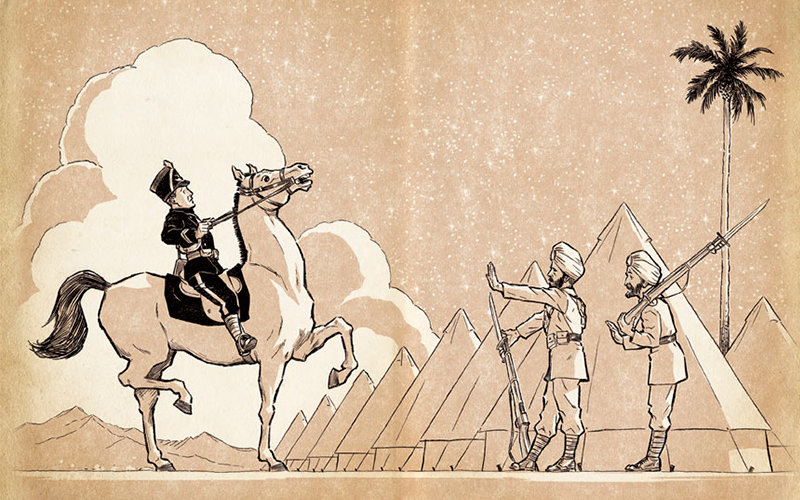 Illustrations from CSUF alumnus Kevin Costner's book "Explorers Guild: Volume One: A Passage to Shambhala" debut at Cal State Fullerton's Nicholas and Lee Begovich Gallery Saturday, Aug. 27, with a 5 p.m. opening reception. The exhibit continues through Dec. 15.
"The Explorers Guild: Rick Ross and Explorations in Graphic Fiction" features Ross' illustrations for the first installment of "The Explorers Guild," co-authored by Costner '78 (B.A. business administration-marketing) and Jon Baird. The series brings back early 20th-century adventure fiction with a clandestine group of globetrotters who travel to remote locations to discover mysteries hiding beyond the known world.
Filmmaker, artist and writer Ross worked with the authors to develop the illustrations. His short film, "Backslide," also will be available for viewing at the gallery, as will a selection of his paintings, drawings and documentation of his graphic novels — including Spike TV's "1000 Ways to Die" — and examples of motion comics that Ross developed for television, such as "Femme Fatales," "DeadTown" and "Dexter."
Trina Moreno, who is pursuing her M.F.A. in art-exhibition design, and Mike McGee, the gallery's director, are co-curating the exhibition.  
More information is available online. The Begovich Gallery is located at 800 North State College Blvd., Fullerton, 92831. It is open noon-4 p.m. Mondays through Thursdays and noon-4 p.m. Saturdays.
Media Contacts: 
Jacqueline Bunge, 657-278-7750
Sarah Muñoz, 657-278-3801