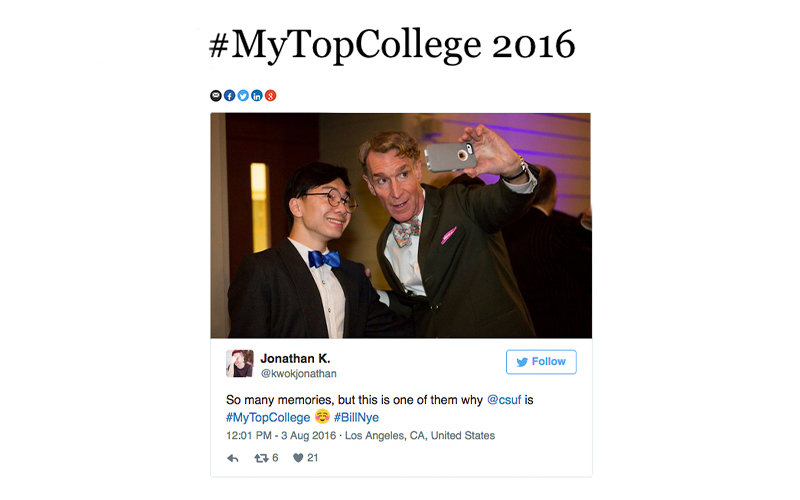 It's official. Cal State Fullerton once again captured the large school division in the national Forbes' 2016 #MyTopCollege social media competition.  
CSUF was named the top campus in the large school division last year, as well, and was the top university in the nation in 2014, the inaugural year of the social media campaign.  
"Once again California State University, Fullerton takes the crown for schools with over 15,000 students," Forbes announced on its website. "The seasoned vets started out strong and racked up an impressive 267 posts. Never sacrificing quality, CSUF students highlighted the school's commitment to diversity and service."
To illustrate the quality of CSUF social media posts, Forbes selected the above Tweet by Jonathan Kwok '15 (B.A. art-graphic design, B.A. communications-advertising) that includes a photo of him with "Science Guy" Bill Nye, who spoke on campus in 2014.
Ouachita Baptist University in Arkadelphia, Ark., won the small school division plus the overall title, and Franciscan University of Steubenville, Ohio, won the medium schools category.
The annual social media campaign featured thousands of social media postings highlighting school spirit and passion from students, alumni, faculty and staff of more than 100 universities nationwide.
The successful Titan effort benefited from a vigorous series of postings on CSUF social media sites, as well as enthusiastic participation of the University's college-and-department-based social media coordinators. During the campaign, hundreds of the postings were curated into a Storify blog to help share the messages of Titan Pride.
Posts ranged from campus beauty shots to heartfelt thanks from alums and students about the quality of education they received at Cal State Fullerton.
Titans posted 267 comments during the four-week contest. A few highlights:
CSUF is #MyTopCollege for challenging me academically, allowing me to get involved in various ways (shoutout to ASI, NSP, Sigma Kappa and Flying Samaritans), helping me become the woman I am today, for introducing some of the most amazing people into my life & SO much more. I'm a VERY #ProudTitan.
@CSUF is #MyTopCollege because it graduates the most Latinos with a Communication degree in the nation.
@csuf is #MyTopCollege because they are pretty much the pillars of my education.
Earlier in life, I never was one to have any school pride. That all changed when I came to #CSUF. There was always a reason to have pride there: teachers, fellow students, random trumpet sounds in the Quad. I never felt more pride than earlier this year when I got to speak to over 10,000 new Titans or those who were looking to become one. It was pouring rain that morning, but EVERYONE stayed put at the stadium. It was a truly beautiful moment to witness and a testament to all that @csuf is not just #MyTopCollege, but the top college to all who get the chance to meet her — in rain or shine!