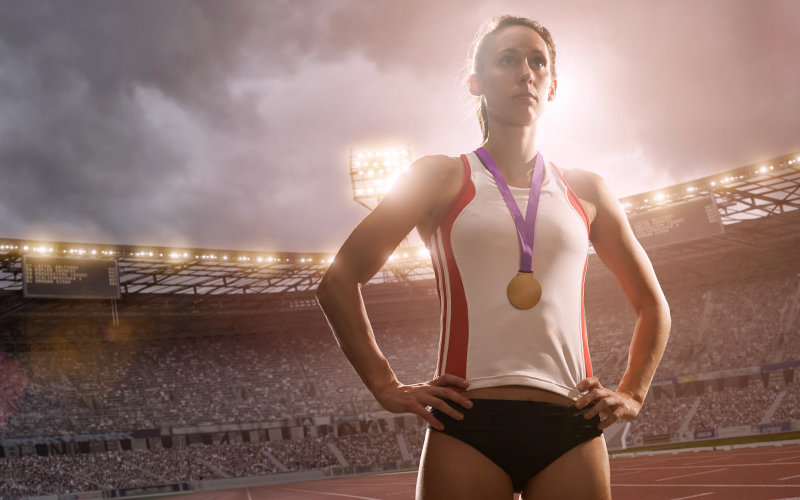 Sexist or homophobic blunders and inappropriate, even cringeworthy, stories by the media covering the 2016 Summer Olympics in Rio de Janeiro have CSUF experts in communications, gender studies and Olympic history asking what message it sends to future athletes and communicators.
Among the most memorable gaffes:
NBC broadcaster Dan Hicks credited the husband and coach of Hungarian gold medal swimmer Katinka Hosszu as "the guy responsible" for her world record in the 400-meter individual medley.
A Chicago Tribune tweet with a photo of trap-shooting bronze medalist Corey Cogdell offered no mention of her name or the event she medaled in, but identified her as the wife of Bears lineman Mitch Unrein.
BBC Africa's tweet encouraged people to watch the German vs. Egyptian beach volleyball match with "Rio Olympics 2016: Bikini vs. Burka."
A Daily Beast article by a straight, married reporter detailed his use of dating apps Tinder and Grindr — essentially outing gay Olympians, including one the reporter identified as from a "notoriously homophobic country."
More women compete on primetime TV at the Olympics than any other time in the year, and the U.S. team of 555 boasts a female majority of 292 athletes — more women than have competed for any nation at a single Olympics, according to Olympic historians.
"The fact that women's sports receive so little media coverage ­— except during Olympics — makes the sexist commentary even more apparent," said Alison Wrynn, professor of kinesiology and director of undergraduate studies and general education.
Wrynn co-authored three Women's Sports Foundation reports on gender equity in recent Olympic games. Her recent analysis of the 2012 London games laments the lack of women in Olympic leadership roles not just in the International Olympic Committee (IOC) or the National Olympic committees, but in athletic federations that govern sports.
The media's failures to offer inclusive and balanced coverage are fueled by social media, creating an almost insatiable obsession, said Jason Shepard, chair and associate professor for the Department of Communications. And removing stories, tweets and Facebook posts, even apologizing for failures, is inadequate because the harm is already done.
"Reporters are often under pressure to find creative angles for coverage, and maybe (the Daily Beast) reporter thought it was clever to search for athletes on gay location apps and see what turned up. But it was a terrible idea in retrospect," said Shepard, who teaches media law and ethics courses. "This is a powerful example of a journalist and his editors failing to consider the harm that could come from their story."
The story served no legitimate public interest, Shepard said. "The potential outing of athletes is even more egregious when you consider the intolerance that exists in so many places around the world, let alone the homophobia that still exists in U.S. culture," he said.
In some cases, it was the media's inequity that caused concern.
Networks routinely show family and spouses reacting to a loved-one's medal win. But NBC's coverage of gay diver Tom Daley's bronze win in the 10-meter synchronized diving finals failed to identify Daley's fiancé Dustin Lance Black, the Oscar-winning screenwriter of the film "Milk."
A headline on an Associated Press story gave Katie Ledecky a deck head, or secondary mention for setting the world record in women's 800 freestyle (becoming the first woman to win gold in the 200-meter, 400- and 800-meter freestyle races since 1968) and placed it below the headline "Phelps ties for silver in 100 fly."
The Mercury News tweeted about gold- medal swimmer Simone Manuel: "Olympics: Michael Phelps shares historic night with African-American."
For Titans studying kinesiology, women's and gender studies and communications, the media's coverage of female Olympians will likely make its way into classroom conversations when students return next week. There's definitely a learning opportunity here, said Wrynn.
"The positive feature, if any, which comes out of this coverage, is the opportunity to discuss the amazingly talented female athletes who compete in the Olympics and to give young girls around the world a diverse array of strong, heroic, competent female role models to emulate."
2016 Olympics is a series of stories highlighting Cal State Fullerton faculty, staff and athletes connected with the Summer Olympics in Rio de Janeiro. Follow the games Aug. 5-21, and join us on social media with the #CSUFOlympics.
Related stories
http://news.fullerton.edu/olympics/default.aspx#sthash.G6I7N8GH.dpuf
http://news.fullerton.edu/olympics/default.aspx#sthash.G6I7N8GH.dpuf