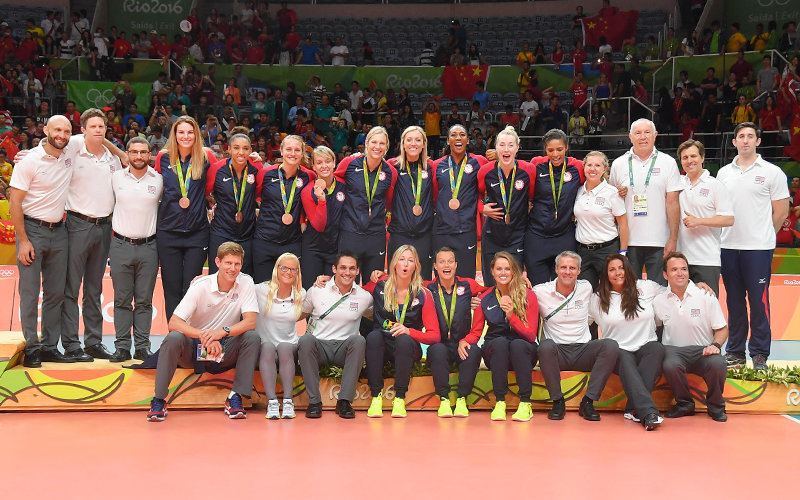 At least one Cal State Fullerton alumnus is basking in the afterglow of the bronze medal capture by USA Women's Volleyball at the 2016 Summer Olympics.
Jimmy Stitz '13 (M.S. kinesiology), who serves as the team's primary strength and conditioning coach, returns to Orange County this week with smiles and gratitude.
Behind the scenes of the team's hard-fought battle, Stitz took to social media to share how "these women brought no #weaksauce today." He also credited his alma mater and its Center for Sports Performance for paving a path for him to the Olympics, tweeting, "Wouldn't be here if it weren't for @csuf @cspfullerton."
Why did you choose CSUF for your graduate degree?
The answer has two parts. First, CSUF has a faculty that is highly respected in the strength and conditioning world. Second, most future strength and conditioning coaches seek out graduate assistant positions. I chose to pair the high-quality research education at CSUF with the bounty of high-level athletics scattered across the Orange County/Los Angeles area.
Can you share an example of something you learned at CSUF that has been relevant to your career?
The most notable thing I remember from my time at CSUF was that good people are a priceless commodity. After two years of working with the staff in the Kinesiology Department at CSUF, I left with a deep understanding of how great environments can be when they are filled with great people. As I have moved into roles of managing other people, I use that lesson to guide my decisions.
What is your role as strength and conditioning consultant for USA Volleyball?
I serve as the primary strength and conditioning coach for the women's national team. Under that umbrella are several other duties. Most notably, I plan and implement pre-practice/match warmups, team- and individual-lifting sessions, regeneration sessions, implement movement training; administer testing and data collection; and consult with our medical team on return-to-play protocols.
What is it like to travel with a sports team?
I wish I could say all the travel is glamorous. Even as I write this, I am sitting on a plane that is grounded for mechanical maintenance. I miss my friends and family, but the teams I work with are like second families. We grow really close on these trips, especially over the summer when we are together 24/7 for weeks, if not months, at a time. We usually don't get much time to do anything outside of our normal training and playing routine, but when we have an opportunity to venture out, I try and take advantage.
What advice can you offer to current and future Titans?
The best advice I could give is, don't be afraid to forge your own path, and most importantly, be kind to people. Treat others with respect and doors will open for you. People want to be around good people. Work hard to show others you care and the rest will take care of itself.
2016 Olympics is a series of stories highlighting Cal State Fullerton faculty, staff, alumni and athletes connected with the Summer Olympics in Rio de Janeiro.
Related stories:
2016 Olympics: CSUF Leads the Way in Olympic Research and Service