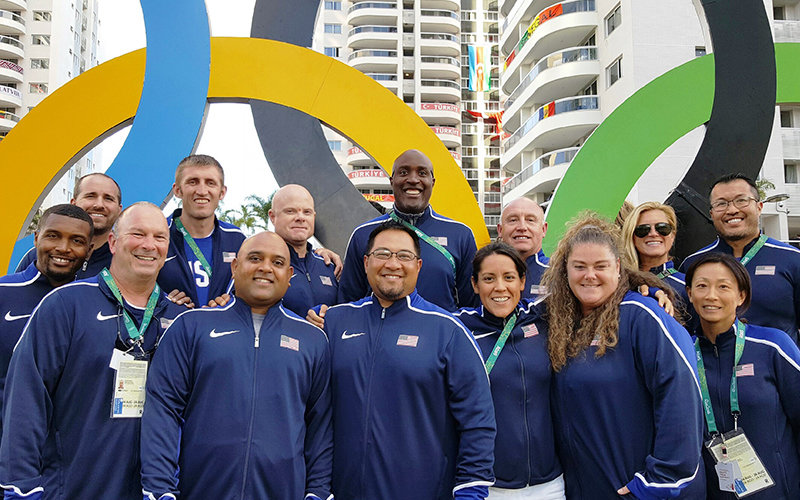 When Andrea Becker stepped off the plane Tuesday, she had one thing on her mind: getting to Cal State Fullerton to teach her first class of the semester.
"I was ecstatic to walk across campus to class," said Becker. "It didn't even matter that I had just gotten off a plane after traveling for 28 hours. I was so ready to be back here."
Becker is one of two CSUF associate professors of kinesiology returning from the 2016 Summer Olympics, where she was sport psychology coach for USA Men's Volleyball.
Traci Statler also journeyed home this week after serving as lead sport psychology consultant for USA Track and Field.
Sport Psychology Duo
Attending their first Olympic games, Becker and Statler are blazing trails in sport psychology. Working closely with the athletes, the two have firsthand knowledge of the psychological resiliency and grit necessary for Olympic success.
"Being able to celebrate with athletes who performed beyond their expectations was amazing," said Statler. "But equally powerful was the opportunity to be there for those who didn't compete as well as they could have, and helping them find perspective afterward."
An iconic moment of the games, which left a lasting impression on Statler, was when Team USA distance runner Abbey D'Agostino collided with New Zealand's Nikki Hamblin in the 5,000-meter race and stopped to help her competitor up.
"The sportsmanship and wherewithal that Abbey had to recognize the Olympic spirit in that moment was hugely impactful," said Statler, one of the first people on the scene. "Abbey finished the race, half of which she ran with a ruptured knee. Though she was in pain, she kept asking about the athlete from New Zealand. She's a pretty special person."
Becker also described the intensity of the Olympics, saying the toughest match of her coaching experience was when USA Men's Volleyball competed against Italy in the semifinal round. Both teams brought some of the highest level of competition to the court, and the U.S. ultimately fell to Italy.
"I've watched these guys, for the last four years, make so many sacrifices in pursuit of this dream," said Becker. "The lowest time for me was seeing their disappointment and seeing their dream of making it to the gold-medal match slip away."
In the following 48 hours, Becker kicked into high gear, helping the team refocus to win the bronze medal against Russia.
"We knew we had a tough match in front of us," she said. "I started to preach a new perspective: 'We still have the opportunity to finish our Olympic games on a win.'
"Really, it came down to the heart, grit and resilience of the guys, who stepped out on that court and competed point by point," said Becker. "Bronze wasn't our initial goal, but we were really proud to come home with that medal."
Teachable Moments
While Statler and Becker need time to consider the idea of participating in the Tokyo 2020 games — both cited the personal sacrifice it takes — they are turning their attention to their students and research.
"I now have examples that I saw with my own eyes of some of the sport psychology theories that we teach in class," said Statler, who returns to teaching in the spring.
Becker, who documented every team meeting and every pre- and post-game locker room speech for the past four years, is excited to analyze that data and involve CSUF students in her research.
"I'm looking forward to developing a cohort of student researchers who are interested in studying effective coaching behaviors and what it takes to be successful at the highest level of sport," said Becker.
Epitomizing CSUF's commitment to teaching, research and service, Becker and Statler are just two of the many faculty, staff and alumni who participated in the 2016 Olympics.
"I think it is important for everyone to know how proud we are of Andrea and Traci, in addition to our many colleagues and alumni who were involved with the 2016 Olympics," said Kavin Tsang, chair and associate professor of kinesiology. "We were fortunate to vicariously experience their passion and commitment to their areas of expertise on such a public stage."
2016 Olympics is a series of stories highlighting Cal State Fullerton faculty, staff and athletes connected with the Summer Olympics in Rio de Janeiro.
Related stories:
2016 Olympics: CSUF Leads the Way in Olympic Research and Service