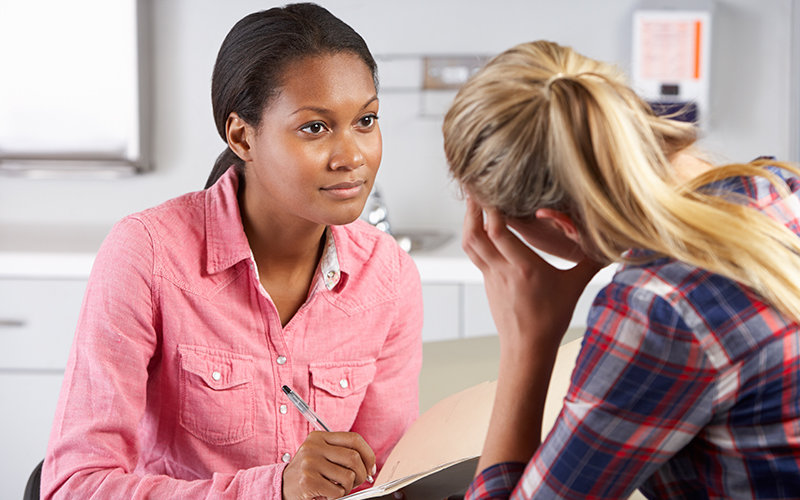 Cal State Fullerton will soon offer Screening, Brief Interventions and Referrals for Treatment (SBIRT) training for students in its nursing, social work and human services programs. The evidence-based practice is designed to help students identify and assess individuals who are at risk for, or who have, a substance use disorder.
Funded through a three-year grant from the Substance Abuse and Mental Health Services Administration (SAMHSA), the program received $258,823 for its first year and is expected to receive a total of $769,556 by 2019.
"SBIRT training is a transferrable skill that students will be able to take with them into their career settings," said Beverly Quaye, assistant professor of nursing. "We hope to increase the number of health care professionals in our community who can address the needs of persons with substance use disorder."
Quaye will work to implement and sustain the SBIRT program alongside CSUF faculty Mikyong Kim-Goh, professor of social work; Karen Lee, assistant professor of social work; and Carol Metoyer, lecturer in nursing.
"There are big implications as to why we want to reduce the number of individuals with substance abuse problems in our country," said Quaye. "We know that they not only have individual needs, but that the chronic condition often results in other family, relationship and societal issues."
According to SAMHSA, a substance use disorder is defined as the recurrent use of alcohol and/or drugs leading to significant clinical or functional impairment. The SBIRT program, which will train 650 CSUF students and 75 community health professionals over the three-year period, will target underserved and vulnerable neighborhoods in Orange County.
"It's very hard to get statistics on substance abuse because a lot of people who are within the sample that you would be taking are transient. They may or may not have employment or housing," said Quaye. "So even if you can get the statistics, they're often not very accurate.
"We know from law enforcement and health facilities that it's a problem because very often the individuals will frequent emergency departments, or they will demonstrate behaviors that are detrimental to themselves or others."
The crowding of emergency rooms by substance abuse patients is a concern for many health care providers.
"Because there is such a high number of people who abuse substances and alcoholics that use Orange County emergency departments every day, it can impact the response time and the quality of care for people who may have more critical needs, such as stroke or heart attack patients," said Quaye.
SBIRT training, which will be offered through classroom curriculum, experiential training and distance learning, is part of a nationwide effort to standardize assessments, provide focused intervention, and increase effectiveness at recognizing and treating substance abuse.
"This program will help us plant and cultivate the seed to help more individuals get treatment for their substance abuse," said Quaye. "We're confident that we'll make a difference."