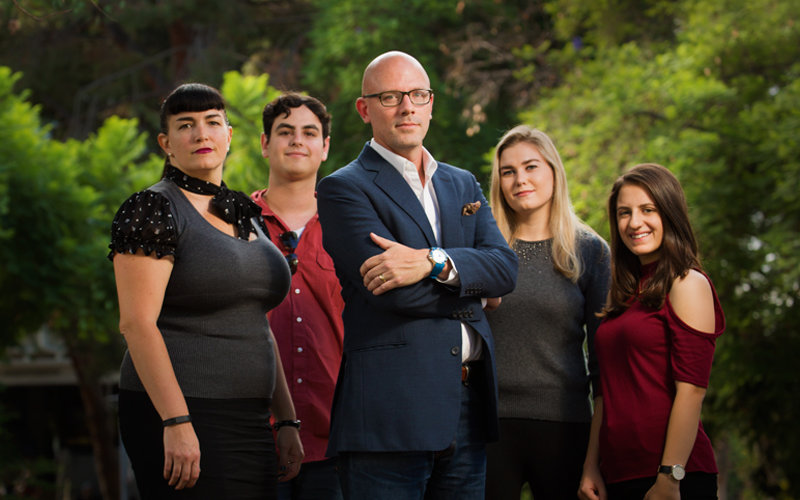 In November, California voters once again will be asked to consider the issue of prison reform. The Public Safety and Rehabilitation Act of 2016 (Proposition 57) would increase parole opportunities for people convicted of nonviolent crimes and place the decision of trying certain juveniles as adults in the hands of judges, not prosecutors.
Boom: A California Journal will host a Sept. 26 forum on California prison reform, the theme of its latest issue, at the Fullerton Arboretum. The free, public event is co-sponsored by Cal State Fullerton's Pollak Library; Center for Scholars; Honors Student Advisory Council; the Division of Politics, Administration and Justice; and the Black Student Union.
"Mass incarceration is a reality: The prison system is way too big, and it houses people of color disproportionately," said Jason Sexton, a lecturer in CSUF's University Honors Program and the new editor of Boom. "Prison reform is something that all Californians ought to be paying attention to and ought to care deeply about."
A fourth-generation Californian from the Central Valley, Sexton himself served three years in the California Youth Authority. There, he found faith and a passion for education, propelling him to earn a doctor of philosophy degree in theology at the University of St. Andrews in Scotland follwed by postdoctorate work at the University of Cambridge.
In his "American Institutions and Values" class, Sexton invites students to critically examine the justice system. He also serves as an adviser for CSUF's Project Rebound, a statewide effort to expand college access for formerly incarcerated individuals.
Finding himself at the intersection of his three research interests — religion, prisons and California — Sexton took leadership of Boom this summer, bringing the University of California Press publication to CSUF. Founded in 2011 as an inter-institutional journal, the publication previously resided at UC Davis and UCLA.
"Boom is meant to be playful, innovative, interdisciplinary and all about California's culture today," he said. "I'm excited to harness the resources in the CSU world, where the majority of Californians are being educated."
The publication will be housed at the Pollak Library, where Sexton is serving as a library faculty fellow, and in 2017 will evolve to an open-access journal with peer-reviewed critical essays published once a week at boomcalifornia.com.
"One of the roles the library can play is bringing faculty together for interdisciplinary activities, and the journal definitely fits into that," said Scott Hewitt, interim University librarian. "Moving Boom to a free, online format will benefit faculty, students and the community in that more people will have access to this work."
Serving as editorial assistants are graduate student Darcy Anderson and honors students Christina Kolias, Alyssa Martinez and Jason Rochlin.
"It's great for California students to critically think about this place and to see that their stories matter," said Sexton. "I imagine that their involvement with Boom, from proofreading to image research, will help shape their vocational experiences, as well."
The final two print editions of Boom will focus on urban humanities and seeing California through diverse lenses. Hoping to engage underrepresented scholars, writers and students, the journal will accept submissions on topics such as immigration, race, gender, labor, poverty and social justice.
"I hope we are able to connect with Californians in a meaningful way," said Sexton. "And I hope that we find ourselves a little more ear to the ground with what's happening here."