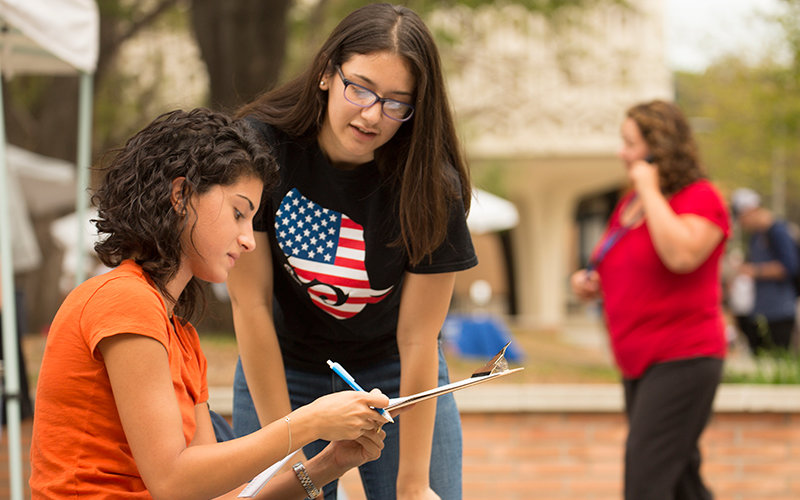 A concert, debate viewing parties, panel discussions on propositions and a partnership with California Secretary of State Alex Padilla are set to motivate CSUF's young voters to participate in the 2016 Presidential election.
Padilla announced Tuesday that his office partnered with the California State University system and the California State Student Association to promote the importance of supporting student voter registration and education efforts across the state, and engage and empower the CSU's 2.7 million students at 23 campuses and eight off-campus centers to participate in the California Students Vote Project.
Padilla will attend CSUF's National Voter Registration Day Concert featuring Ceasefire, from noon to 3 p.m. Tuesday, Sept. 27, at the CSUF student housing piazza.
"To my knowledge, this is the first time the publicly funded higher education system(s) and a secretary of state, have signed a commitment to support voter registration efforts at this scale," Padilla said.
CSUF campus events focused on the 2016 presidential election and its candidates will continue weekly through the Nov. 8 election. Among the activities:
CSUF College Democrats, CSUF GOP and ASI Lobby Corps will host a Presidential Debate viewing party 5:30 – 7:30 p.m. Monday, Sept. 26, in the Titan Student Union. Students and Jon Bruschke, professor of human communications, and Stephen Stambough, professor of political science will post comments on the University's Presidential Debate Portal during the debate.
The University's Osher Lifelong Learning Institute, OLLI, will host the "League of Women Voters:  Pros & Cons for State Ballot Measures," followed by a question and answer forum 10 to 11:30 a.m., Saturday, Oct. 1, in the Ruby Gerontology Center's Mackey Auditorium.
Watch the Vice Presidential Debate from 6 to 8 p.m. Tuesday, Oct. 4, and the Presidential Debate from 6 to 8 p.m. Wednesday, Oct. 19, at parties hosted by ASI Lobby Corps in the Titan Student Union Underground Pub by CSUF Democrats and CSUF GOP.
Students will gather in the quad for a three-hour rally hosted by ASI Lobby Corps, beginning at 11 a.m. Monday, Oct. 24, the last day to register to vote in the presidential election.
Stacy Mallicoat, professor of criminal justice, and Sarah Hill, associate professor of political science, along with representatives from Associated Students, Inc., the Department of Government Relations, and the WoMen's Center and Adult Reentry Center, will discuss the 17 ballot propositions, at panel discussions 11:30 a.m-1 p.m. Wednesday, Oct. 26, in the Titan Theatre and 5:30 – 7 p.m. Tuesday, Nov. 1, in the Titan Student Union.
The California Students Vote Project is advocating for voter registration at all of California's public colleges and universities in hopes of improving the 8 percent youth voter turnout from the 2014 General Election.
The California Students Vote Project is a public-private effort led by the California Secretary of State's Office in partnership with the California Lieutenant Governor's Office, and three nonprofit organizations ­— California Public Interest Research Group (CalPIRG), California Common Cause and Asian Americans Advancing Justice – Asian Law Caucus.
Learn more about CSUF's voter registration and election-related events online.  
Other Campaign 2016 stories: 
Campaign 2016: CSUF Experts React to First Presidential Debate
The Millennial Vote
Political Experts Discusss the Possibility of a Brokered GOP Convention
CSUF Experts Use New Campus Website to Judge Presidential Candidates During Live Debates
Campus Political Science Experts Say Fear Drives Voters