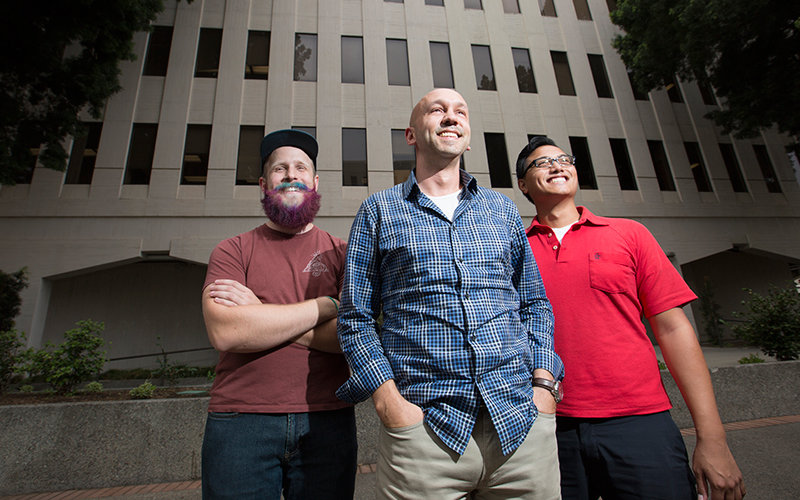 From Chile to Japan to New Zealand, earthquakes have caused significant damage to tall buildings in urban cities across the world. For Cal State Fullerton's Kristijan Kolozvari, he hopes to alleviate such devastating earthquake consequences.
Kolozvari, assistant professor of civil and environmental engineering, and his students are researching ways to improve the resiliency of skyscrapers during and after a strong seismic shake.
"Current design methodologies for the design of tall buildings are focused on preventing loss of human lives, which is essential. But these methodologies do not take into account the amount of damage, the repair cost and the time that buildings are out of function," said Kolozvari.
With a nearly $160,000 grant from the National Science Foundation, Kolozvari and his students are focusing on developing innovative simulation tools to predict the seismic performance of tall buildings — skyscrapers as tall as 40 to 60 stories — following a powerful earthquake.
The computer models examine the interaction between soil, foundation, structural and nonstructural building components to provide a methodology for identifying engineering design requirements that will enable building resiliency, explained Kolozvari. Following several years of industry experience in structural design and evaluation of buildings in seismically active regions, including Southern California, the earthquake engineer joined CSUF in 2014.
"We hope to develop a framework that will shed new light on current design approaches and lay out new design procedures that will enable engineers to design buildings that will be in function shortly after the earthquake, and therefore minimize the impact of earthquakes on society, which is the main objective of earthquake resiliency," he said.
With Kolozvari collaborating with Cal State Long Beach engineering colleagues on the study, his students also have the opportunity to be part of an interdisciplinary team of researchers. One of his student researchers is senior Ross Miller, a civil engineering major, who is interested in learning more about how tall buildings are analyzed using modern computational methods to minimize seismic impacts.
"Working with Dr. Kolozvari, I've learned how to apply the concepts we are taught in class to build analysis tools that can be used in real-world engineering," said Miller, who plans a career in building design and earthquake engineering.
"I'm interested in learning new ways of modeling the responses of tall buildings in earthquakes in order to produce safer and longer lasting structures."
Kolozvari and his students plan to present their research at upcoming conferences such as the Nov. 12 Southern California Conferences for Undergraduate Research at UC Riverside, and next year's ASCE Structural Congress in Denver and the World Conference in Earthquake Engineering in Santiago, Chile.