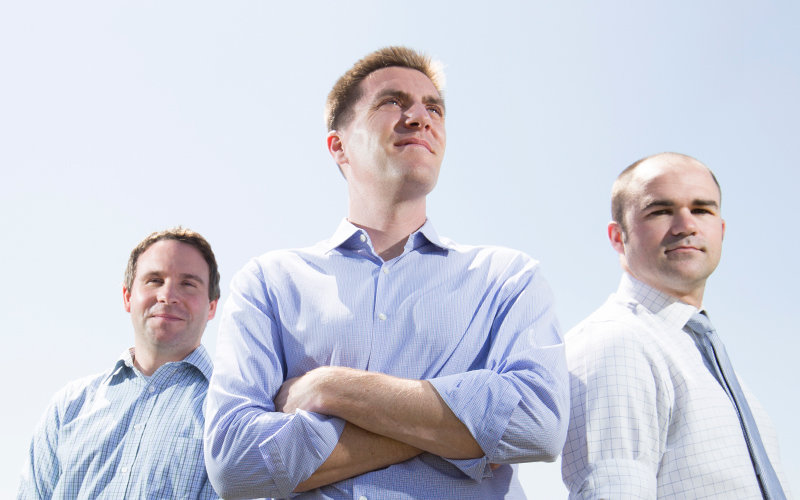 Many Americans watched the 2016 Summer Olympics hoping to experience the exhilaration felt by medal-winning athletes. For three Cal State Fullerton faculty members, the exhilaration comes from knowing more about the behind-the-scenes drama, politics, even protests of past games. They have researched the games, predicted them, and helped write the policies that protect the beloved competition and its athletes.
The trio — John Gleaves, Matt Llewellyn and Toby Rider  — chair the University's Center for Sociocultural Sport and Olympic Research (CSSOR), one of only three Olympic studies centers in the United States and the only one on the West Coast. The CSUF center is recognized as an International Olympic Studies Centre by both the International Olympic Committee's Olympic Studies Centre and the United States Olympic Committee for its commitment to ongoing research and education.
"When you look initially at where we stand in research on sport, Cal State Fullerton sometimes thinks of itself as a regional university. We're a regional university with a global impact," says Gleaves, associate professor of kinesiology. "This absolutely elevates CSUF as an international player in sport — and we're doing good things in Olympic sports. Our work has a real impact."
Sports Scholars
Gleaves, who has studied performance-enhancing drugs for almost a decade, was appointed in April to the USA Cycling team's new advisory Anti-Doping Committee. He is one of eight doping research experts from around the world chosen to study and determine how USA Cycling can "best reduce banned doping practices within amateur and professional cycling," according to the official cycling organization.
"That USA Cycling is reaching out to us for their advisory board says a lot about our institution and what we do. We're paving the way — and they want our expertise," says Gleaves. His book, "The Rise and Fall of Olympic Amateurism," co-authored with Llewellyn, associate professor of kinesiology, was published in August.
Rider, assistant professor of kinesiology, knew a team might one day enter the arena's traditional parade of athletes without a nation's flag. Team Refugee Olympic Athletes is the first team of its kind in International Olympic Committee history — a history with a dubious human rights record he's examined as an author.
He researched decades of movements by refugee athletes displaced by war and dissention and ignored by the International Olympic Committee, he says, as they lived in places of isolation and despair. The IOC's engagement in the current refugee movement and this year's team of 10 athletes from Syria, South Sudan, Ethiopia and the Democratic Republic of Congo "marked a significant shift historically," he says.
"The Olympics are one of the most watched cultural events on Earth. They are a globalized and commercialized mega event," Rider says. "They also are plagued by corruption and controversy. For these reasons, they demand the attention of scholars."
Olympic Access
The two-year-old CSSOR's annual budget is entirely donor- and grant-funded, and receives no funds from the IOC. The primary goals in its five-year plan include completing a series of videos on sports history to be used in classrooms around the world and creating an endowment to assist CSUF students in the Greece Study Abroad program.
With Olympic Studies Centre status, faculty and student researchers gain access to archival materials at the U.S. Olympic Museum and Training Center in Colorado Springs. There, the emotional stories of past political movements, bidding scandals and a billion-dollar multinational bureaucracy come to life.
"The Olympics are an unprecedented political showcase — a platform for nations to demonstrate their power, prestige, ideologies and cultural diversity, or even seek validation as a member of the international community," says Llewellyn, who has penned three books on the Olympic Games' movements, amateurism and the legacy of the 1984 games.
The center helps fund graduate students' research and presentations, including last year's delivery to an audience of academics and CEOs of the anti-doping industry in Denmark at an International Network for Doping Research conference.
As many as 25 students study the history of the Olympic Games in the College of Health and Human Development's summer Greece Study Abroad program. They are able to stay at the International Olympic Academy because of the CSUF center's Olympic connection and faculty scholars, says Gleaves.   
The center will host the 2017 North American Society for Sport History convention, where several colleges and departments on campus will collaborate on history- and kinesiology-focused presentations, Rider adds.
"We're an outlet for new ideas and new research that can point a way so we can better understand our movement culture," says Rider. "We aim to use our research and what we learn in our classes, and to engage the community on issues that our center is trying to shed light on."
Three Other Faculty Members Support Olympic Teams
Andrea Becker, associate professor of kinesiology, is now in her fourth year as a coach for the USA men's volleyball team.
Traci Statler, associate professor of kinesiology, is the lead sports psychology consultant for the USA Track and Field team. She has been with the team for more than 15 years.
Lenny Wiersma, professor of kinesiology, has been a sports psychology consultant for the USA Swimming team since 2003. He also works with individual Olympians in water polo and wrestling.
For more on the Olympics-CSUF connection, check out Living Their Passion.