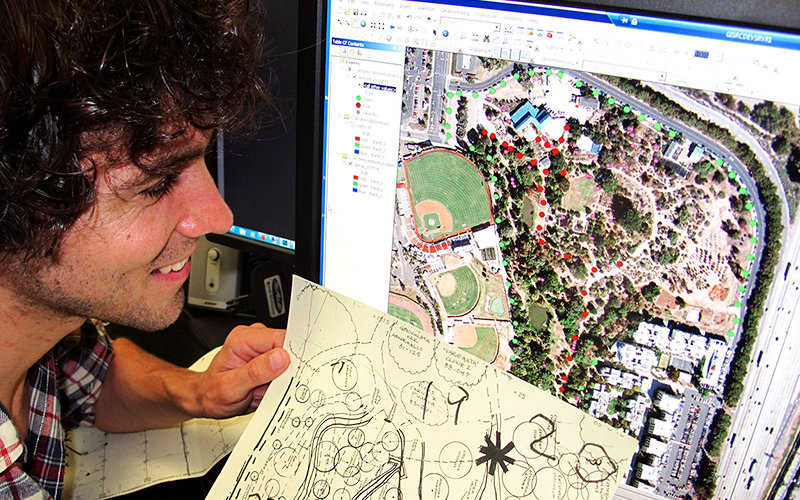 Want to know what type of tree is in the roundabout in front of Cal State Fullerton?
Geography students developed a way to answer questions on height, width, common and scientific names of every one of the campus's 2,333 trees, as well as when it was last pruned, what its general condition is and other information. All thanks to geographic information system (GIS) equipment.
That tree in the roundabout? It's a Morton Bay Fig, scientific name Ficus Macrophylla. It's 22.4 feet in height and its canopy is 24.1 feet in width.
GIS — geographic information system, which integrates hardware, software and data to gather, manage and analyze information — is being used to give students in-the-field experience, according to John C. Carroll, associate professor of geography. And the projects the students conduct provide direct benefits for the campus itself.
One of the most recent projects out of the GIS lab is a mapping of the Fullerton Arboretum. Like the earlier project on the campus trees, the Arboretum mapping tracks all the unusual plant life in the botanical garden, not only to inform the public, but to help curate the collections and manage the facility.
"We encourage students to use the system and the equipment because this technology is used in many careers," said Carroll. "Students who become skilled in GIS, have been graduating and entering careers based on this knowledge."
Students like Michael Shensky '10, '13 (B.A., M.A. geography), who now teaches at Cal State Long Beach and manages the university's GIS lab.
"I was fortunate to have the opportunity to provide a benefit to the campus, to work and lead on a project that developed into my graduate thesis," said Shensky, who worked on the tree inventory project. "As a graduate student, I wanted to develop practical skills that would help me find a job after graduation. The experience of working on the tree inventory allowed me to achieve both of these goals."
Other campus projects include the locations of art installations, campus camera locations and bike paths. Students work on projects in the GIS Research Center, a collaborative center developed by the Geography Department and Information Technology.
"We offer both software and hardware in the center, so students can create applications and maps, while Information Technology provides virtual servers where the data can be stored. From there we can customize to meet whatever needs there are," said Carroll.
In addition to technical skills, Shensky noted the value of learning project management and interacting with a variety of people across campus. "Without the opportunity to acquire these skills, I am not sure that I would have been hired for the job I have today, where I use many of these skills on a regular basis."