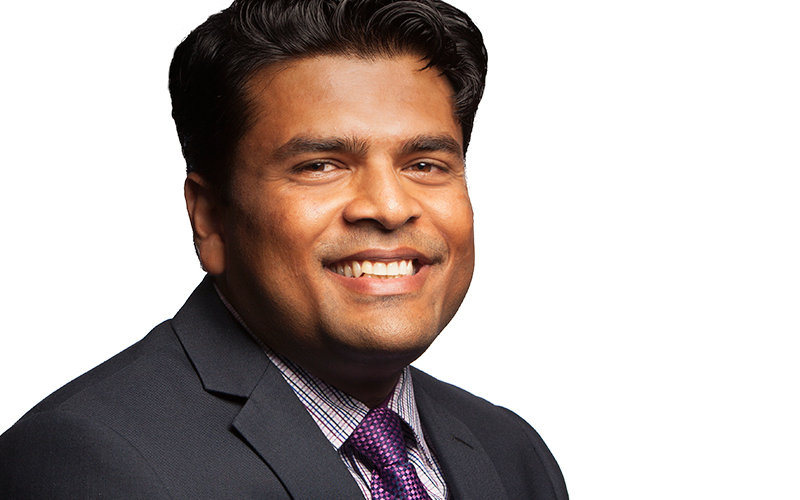 After earning his master's degree in electrical engineering from Cal State Fullerton in 2009, Rakeshkumar "Rakesh" Mahto pursued a doctorate in computer engineering at the University of New Mexico. The alumnus completed the doctoral program this summer, where he focused on computer architecture and computer microchip design. The new assistant professor of computer engineering also holds a bachelor's degree in electrical engineering from South Gujarat University in India.
What inspired you to go into your field and what was the defining moment?
Joining the master's program at CSUF changed everything for me. The professors in the Electrical Engineering Department motivated me to pursue a doctorate. Dr. Maqsood Chaudhry and Dr. Fleur Tehrani taught me courses related to electronics. I have to thank them for not only teaching me, but also for introducing me to various future research topics in electronics that inspired me to pursue further studies. Dr. Shahin Ghazanshahi also taught me courses related to probability theory. Because of my graduate experiences, I was eager to return to campus and be a part of CSUF's faculty.
What are your research interests?
Solar cells as a power source are in great demand, thanks to the push for green, renewable and clean energy. My dissertation focused on making a resilient solar cell-based power source for micro-autonomous drones. I will be continuing this research at CSUF. I'm also interested in designing components for portable devices — laptops, tablets, cellphones, smartwatches and other products — to be more power efficient, meaning to last longer without having to charge. I am also interested in making electronics hardware safe from security breaches.
What changes do you envision in your field in five years?
There will be an increase in the use of solar cells for power generation, as well as a rise in the use of organic and flexible solar cells to power small devices and sensors. With the increasing number of security breaches, there also will be a growing demand for more secure electronic hardware.
What is one fun fact you'd like people to know about your field of expertise?
The number of transistors inside a microprocessor has doubled every two years, as predicted 50 years ago by Intel's co-founder Gordon Moore. Shrinking the size of a transistor to integrate more and more transistors is important because it enables the integration of more and more circuits into an integrated circuit, or chip. This is an opportunity for young computer engineers to be part of the research community and provide solutions that veterans from the industry have not foreseen.