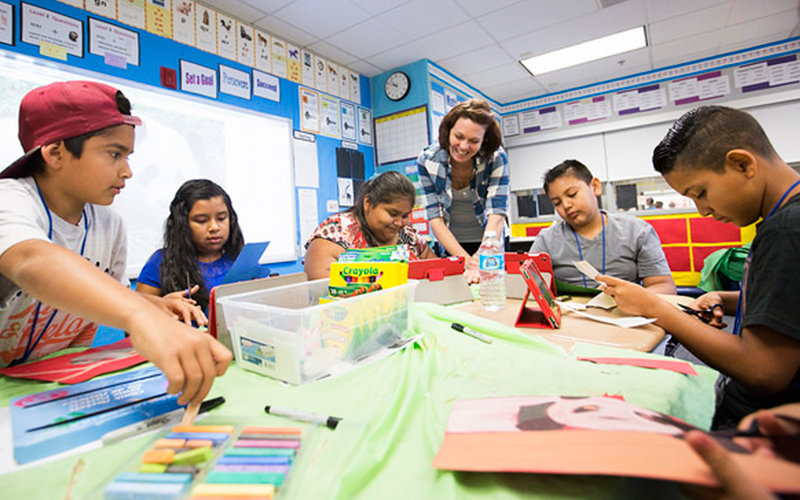 In classes throughout Buena Park, hundreds of youngsters are receiving assistance in developing math and reading skills and support while completing their homework assignments, as well as taking part in special club activities, sports and games.
Overseeing these after-school enrichment programs is a cadre of students from Cal State Fullerton, community colleges and other universities, working as part of the University's After School Education and Safety Program, or Titan A.S.E.S.
The program, the result of a collaborative effort between Cal State Fullerton's Center for Internships and Community Engagement and the Buena Park School District, provides valuable lessons and high-impact experiences to both sets of students. The program recently received $498,893 from the Buena Park School District to continue the effort.
"CSUF student participants use the experience to fulfill academic internships, service-learning requirements or gain experience working with young students," says Christopher Perez, program director.
"All of our college students receive extensive and ongoing training to help them work with the students under their direction and to help them deliver curriculum to students in the classrooms.
"These are certainly not easy tasks when working with children who have already spent a full day in school," Perez adds. "Our college students participate in community engagement in all levels of programming and gain valuable insight into their own areas of interests, strengths and professional development."
Nichole Martin, a junior majoring child and adolescent development, agrees, but says the effort is worth it. "My future goal is to be an elementary school teacher, and as I progress through my third year working with students in the program, I have learned how to successfully manage a classroom of 22-26 students.… Some days are difficult, but seeing the students progress every day is the best feeling in the world.
"I have learned how to accommodate to students' needs, and I have learned how to communicate, as well as collaborate, with educators and families in order to benefit students' health, education and overall development," Martin added.
"I like being able to serve as a role model to these students," says Vivian Lopez, a senior mathematics major, who wants to become a secondary school math teacher. "I've learned a lot from working — from planning enrichment activities to learning classroom management skills. It is rewarding to see students partake in these activities and then tell you that they want to be at A.S.E.S. I know I will be able to incorporate these skills in my future classroom."
Carolina Zaragoza, who completed her bachelor's degree in kinesiology-teacher education last spring, also notes the importance of the experience to her future goals. "I saw A.S.E.S. as a great opportunity to grow in my career goals. By being connected to other students working on their degrees and in the program, I'm encouraged to continue my studies."
Zaragoza, who is still working in A.S.E.S., is impressed with the impact the program has on young students' academic lives. "I see the potential this program has to shape them and build them into powerful individuals. Students are leaving the program with confidence, life and team-building skills and a desire to learn and grow."
More information about the program is available online.