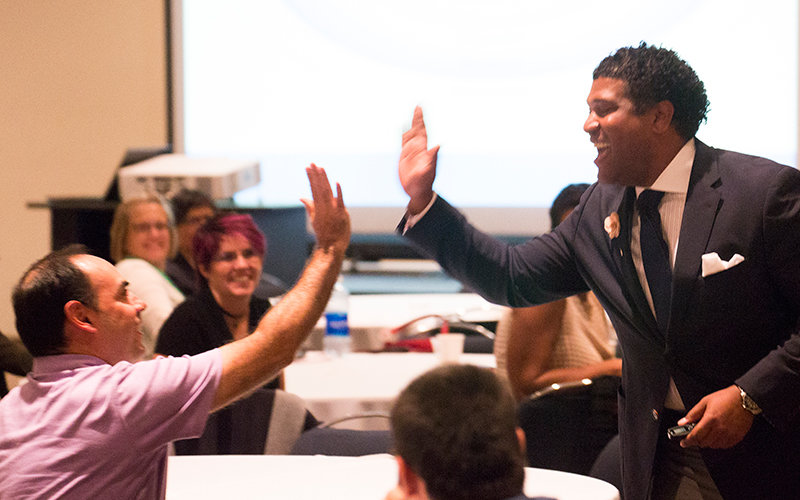 President Mildred García urged students, faculty and staff members to champion conversations about diversity, equity, inclusion and leadership.
Her call to action was part of an introduction to an Oct. 6 universitywide talk, "A Matter of Excellence: Preparing the Centennial Generation to Lead" with Damon Williams, author of "Strategic Diversity Leadership: Activating Change and Transformation" and "The Chief Diversity Officer: Strategy, Structure and Change Management."
"We're going to show the United States that we are a model, comprehensive university … that we do know how to live, work and study together," said García, adding that through such conversations — in which national experts "share the wisdom they have learned — we will continue to grow and improve."
"What I want to say about strategic diversity and inclusion is that each of us come with a body of knowledge, a body of expertise, a body of experience that is pertinent to what we are going to talk about today," said Williams, senior vice president, chief educational and youth development officer, Boys and Girls Clubs of America.
What is diversity in the 21st century? What does it mean to lead strategically around issues of diversity, equity and inclusion? Why is there so much talk of change and so little results? These were just a few of the questions that Williams introduced.
He urged the audience to remember who are today's students, who he called centennials — those born after 1997-98. "Those that are coming through our pipeline, and understanding where they come from."
This is the generation that grew up with technology, Williams explained, "and their educational experience has to be different because of the technology."
They are constantly in the social world, creating shared content, but what if we flip the conversation to, what does it mean for diversity and inclusion? What does it mean to always be in the social world?"
Williams called today a time of risk — that this is the generation raised during the Great Recession (starting in 2008), where they are not expected to do better than their parents, and where the United States has fallen behind in the degree of preparation it gives its young people.
"We must do a better job of diversity, in inclusion" not just here at Cal State Fullerton but across the country. "It is an economic and national imperative .… A perfect storm.
"There are no major bullets," he explained. "This is hard, challenging work."
To describe it, he said diversity often moves like a cheetah, who sits and waits for his prey, then hurdles toward it with amazing speed. Once it has its prey, it again will stop and wait for the next opportunity. Williams says diversity should be more like the wolf, who moves as a pack, together, working collaboratively.
Williams called on faculty, staff and students to create opportunities for engagement but to take on the commitment and the accountability necessary to drive diversity and inclusiveness. "Higher education is great because we can and do engage and validate the voices and leadership for change."
To learn more about what Cal State Fullerton's commitment to diversity, equity and inclusion, go to the Titans Together website.