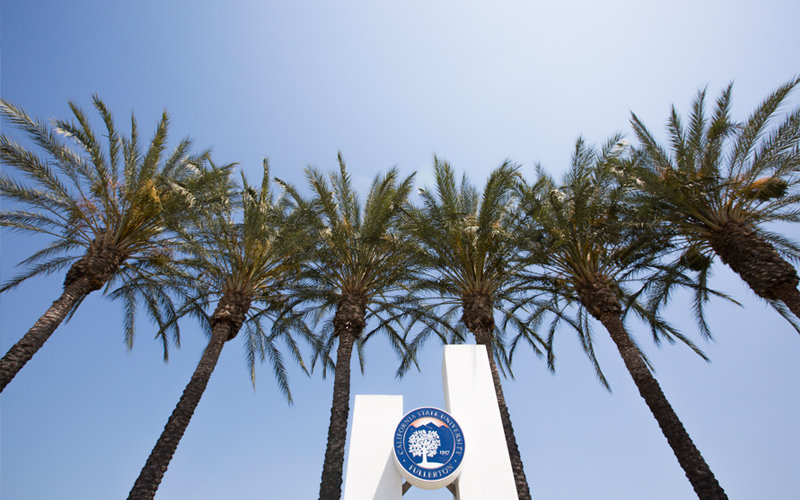 Cal State Fullerton faculty and staff members have garnered more than $11 million in grants and contracts for the first quarter of the academic year (July 1 to Sept. 30). Among the awards were multimillion dollar awards in support of teacher education endeavors and the University's GEAR UP program.
Claire Cavallaro, professor of special education and dean emeritus of the College of Education:
$2 million from the Bill & Melinda Gates Foundation for the "CA Teachers Summit"; 
$1.2 million from the S.D. Bechtel Jr. Foundation for "Titan Educator: Educator Development Utilizing Collaboration"; 
$130,000 from the CSU Chancellor's Office/S.D. Bechtel, Jr. Foundation for "Better Together: California Teacher Summit"; and
$50,000 from the James Irvine Foundation through the California State University, Long Beach Research Foundation for "Advancing Educator Preparation and Communities of Practice for Linked Learning."
Adriana Badillo, project director for GEAR UP: $1,116,440 in second-year funding from the U.S. Department of Education for Gaining Early Awareness and Readiness for Undergraduate Program, or GEAR UP-Anaheim program, which follows students from Sycamore and South junior high schools from 7th grade through high school. Badillo also was awarded $969,860 in the last year of a six-year U.S. Department of Education grant in support of the CSUF GEAR UP program, which works with students from Dale and Orangeview junior high schools. Related story: Local High School Students GEAR UP for College
Jocelyn Read and Geoffrey Lovelace, assistant professors, and Joshua Smith, associate professor, all physics: $937,368 National Science Foundation funding for "Catching a New Wave: The CSUF-Syracuse Partnership for Inclusion of Underrepresented Groups in Gravitational-Wave Astronomy and Astrophysics."
Joshua Bilbrew, director of Educational Talent Search: a total of $524,160 in first-year funding from the U.S. Department of Education for CSUF's Talent Search Programs. Both grants are expected to total $2.62 million over the five-year award period.
Dawn Macy, director of the Center for Internships and Community Engagement: $498,893 Buena Park School District contract for the continuation of the "Titan After-School Education and Safety Program." She also received $13,827 from Project Access for "Project Access Titan Tutors 2016-18."
Patricia Feliz, director of the CSUF High School Equivalency Program: $474,991 in second-year funding from the U.S. Department of Education for the CSUF HEP program. Related story: Grant to Assist Migrant Students
Amybeth Cohen, professor of biological science: $435,516 from the National Institutes of Health to support "MARC U*Star Program." The nationally funded program, entering its 21st year, supports underrepresented students interested in pursuing advanced degrees in biomedical or behavioral research. More than 79 undergraduates have participated, with 85 percent entering doctoral programs within the last 10 years. Related: Successful Program Helps Students on Path to Research Careers
Murtadha Khakoo, professor of physics: $402,410 National Science Foundation award for "Electron Scattering From Fundamental Gaseous Targets."
Alexandra Orchard and Nicholas Salzameda, assistant professors of chemistry and biochemistry: $310,569 U.S. Department of Defense award for "Peptidomimetics as Chemical Probes of Protein-Protein Interactions."
Sang June Oh, associate professor of mechanical engineering and interim associate dean in the College of Engineering and Computer Science: $300,000 from the W.M. Keck Foundation for "B.S. in Engineering, Option in Biomedical Device Engineering."
Michael Daniel, director of the CSUF Small Business Development Center: $289,750 from the California Governor's Office of Business and Economics Development for the "2016-17 Go-Biz SBDC State Match project." Related: Supporting Entrepreneurs
Tu-Uyen Nguyen, associate professor of Asian-American studies: $272,644 in fifth-year funding from the Department of Health and Human Services, Public Health Service, for "Healthy Asian Pacific Islander Youth Empowerment Program (HAPI-YEP)." Related: Project Gets $1.3 Million Grant
Sara Johnson, professor of anthropology: $250,000 award from the U.S. Department of Agriculture for "U-ACRE 3.0 Partnership Across HSIs to Enhance the Student Research Experience." Related: Supporting Sustainable Urban Agriculture
Patricia Literte, associate professor of sociology: $226,600 U.S. Department of Education award for "Ronald E. McNair Scholars Program." Related: McNair Scholars – One Step Closer to Grad School
Archana McEligot, professor of health science: $210,697 in second-year and $155,550 in supplemental funding from the National Institutes of Health/National Institute on Minority Health and Health Disparities for "Big Data Discovery and Diversity Through Research Education Advancement and Partnerships."
Natalie Tran, professor of educational leadership: $178,000 U.S. Department of Education award for the "National Resource Center for Asian Languages" project. The funding is part of a four-year grant to establish a resource center to enhance the teaching, learning and research of less commonly taught languages in the U.S.
Valbone Memeti, assistant professor of geological sciences: $85,527 National Science Foundation award for "Collaborative Research: RUI: Examining the Temporal, Spatial and Geochemical Focusing of Magmatism During a Continental Arc Flare-up."
Doina Bein, assistant professor of computer science: $85,326 from the Air Force Office of Scientific Research for "Environmental-Aware Situation Assessment of Cognitive Autonomous Systems."
Brady Heiner, assistant professor of philosophy: $71,427 award from The Opportunity Institute for CSU Project Rebound.
Veronica Jimenez Ortiz, assistant professor of biological science: $76,996 American Heart Association grant for "Mechanisms of Mechanosensation in the Human Parasite Trypanosoma Cruzi."
Sinan Akciz, assistant professor of geological sciences: $67,238 award from the U.S. Geological Survey for the "Paleoseismic Investigation of the Van Matre Ranch Site, Carrizo Plain, CA" project.
Ruth Mielke, associate professor of nursing: $61,867 Song-Brown grant from the state of California, Office of Statewide Health Planning and Development for "Building Capacity for Nurse-Midwife and Women's Health Nurse Practitioner Students."
Jennifer Burnaford, associate professor of biological science: $38,354 University of California, Santa Cruz, award for "Study of Rocky Intertidal Communities."
James Parham, assistant professor of geological sciences: $37,000 California Department of Fish and Wildlife award for "Conservation Assessment of Four Newly Discovered Endemic Species of California Legless Lizard." Related: New Species of Legless Lizards Unearthed
Sheryl Fontaine, dean of the College of Humanities and Social Sciences: $36,188 from the UC Office of the President for project "First State."
Scott Parr, assistant professor of civil and environmental engineering: $28,735 from the board of supervisors of Louisiana State University and A&M College for "Enhancing Guidance for Evacuation Time Estimate Studies" project.
Michael Boytim, lecturer in nursing: $28,136 U.S. Department of Health and Human Services award for "Nurse Anesthetist Traineeships."
C. Jesse Jones, professor emeritus of kinesiology: $25,000 from St. Joseph Hospital in support of the "Center for Healthy Neighborhoods."
Christina Goode, professor of chemistry and biochemistry: $25,000 California State University Chancellor's Office award and $15,000 from the National Science Foundation for the continuation of "CSU-LSAMP," a program to increase disadvantaged students' preparedness, persistence and retention in STEM programs. Related: Encouraging Students to Consider STEM Studies
Rachel Fenning, assistant professor of child and adolescent studies: $23,809 from UC Irvine for "Improving Participation in Dental Care & Oral health Outcomes for Underserved Children With ASD."
William Laton, associate professor of geological sciences: $16,239 from the California High Speed Rail Authority for "Groundwater Study Project." Laton received $72,500 earlier in the year for this project.
Joshua Yang, associate professor of health science: $15,000 in second-year funding from the American Lung Association in California for "Achieving Tobacco-Related Health Equity Among California's Diverse Populations."