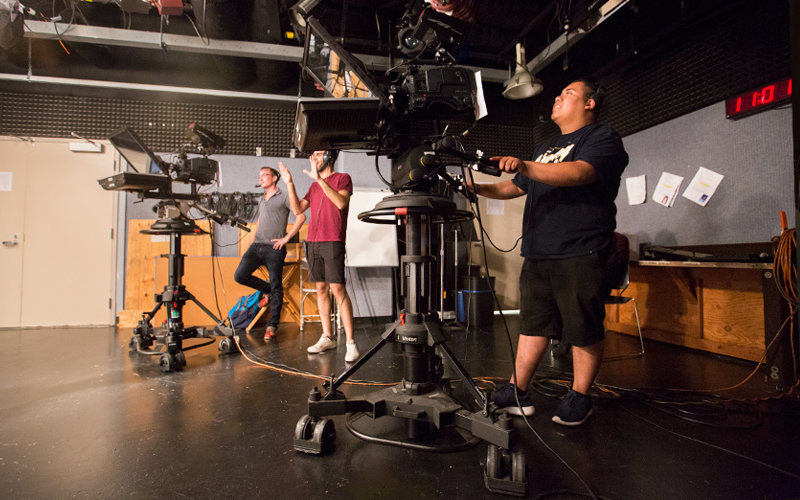 Students in Cal State Fullerton's TV studio production classes are using two new industry-grade camera pedestals recently purchased with a $50,000 grant from the Hollywood Foreign Press Association.
The grant follows the HFPA's donations of $24,500 for a capstone filmmaking class and $5,000 for scholarships this year, plus $70,000 since 2011 to support Titans studying cinema and television arts. 
"We really appreciate that the Hollywood Foreign Press Association sees the valuable work that our faculty and staff are doing and have chosen to support the educational experience of our students in ways that gives them hands-on experience with the latest equipment," said Scott Paynton, dean of the College of Communications.
The professional pedestals are an integral part of college's working TV studio. Students use them to learn production skills, such as panning, tilting, pedestaling and dollying, and to learn exactly how cameras should function in a TV studio environment, both from a camera operator's standpoint and from a director's standpoint, said Shelley Jenkins, a lecturer of cinema and television arts.
"Our students are getting real-world experience in the 'TV Studio Production' class," she said. The studio skills make CSUF graduates stand out in the cinema and television industry's competitive job market.
"The fact that this prestigious organization supports the work that we do here in Cinema and Television Arts is reaffirming and encouraging," Jenkins said. "We look forward to continuing our relationship with HFPA and other industry organizations that value the work we do here, in CTVA at Cal State Fullerton."