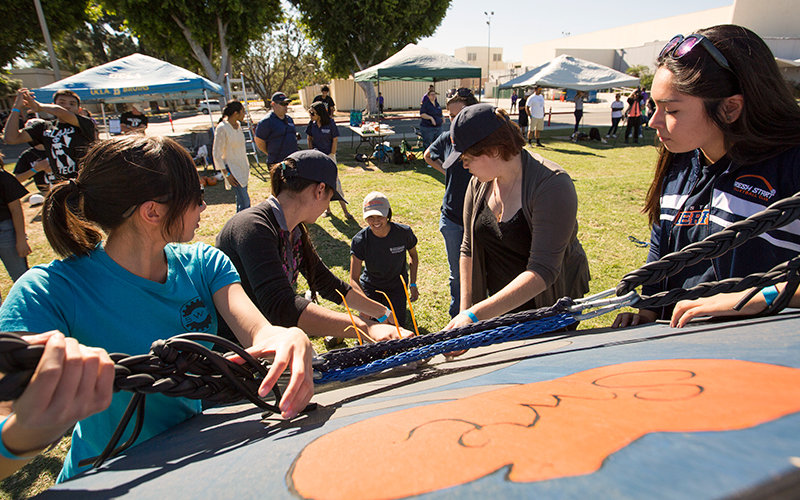 With their eyes on the first-place Pumpkin Launch trophy, the members of Cal State Fullerton's all-female student engineering team rolled up their sleeves to build a new launcher for the Saturday, Nov. 5, competition in hopes of becoming two-time champs.
The student chapter of the Society of Women Engineers (SWE) has been a top finisher four times in the Pumpkin Launch, winning first place in 2013. For this year's competition, the student engineers built a "ballista" launcher, which resembles a medieval crossbow.
"We're changing up our design from the previous years, so it's been a lot of hard work," said team member Ana Armenta, a civil engineering major.
Civil engineering student Paulina Mendez, SWE president, agreed: "Our team has worked around the clock. We don't often get a chance to build something from scratch so this is an opportunity to get hands-on experience."
Six Cal State Fullerton student teams will be among the 17 college, high school, middle school and community teams set to fling pumpkins from giant trebuchets, catapults and other novel launchers in the ninth annual Pumpkin Launch. The event is hosted by CSUF's College of Engineering and Computer Science, Discovery Cube and the George Westrom & Family Foundation.
The 10 a.m.-2 p.m. free event will be held rain or shine on the athletics fields, north of Titan Gym. CSUF student clubs and Discovery Cube will provide family-friendly, hands-on activities and challenges from 10 a.m. to 1 p.m. The CSUF student chapters of the Society of Hispanic Professional Engineers and MAES-Latinos in Science and Engineering will host a lava lamp-making activity, and the Medieval Swordsmanship Club will present martial arts cultures that existed across Europe during the medieval era.
Archers of CSUF, a student club, will present an archery demonstration at noon before the 12:30 p.m. Pumpkin Launch competition.
The women student engineers built their new design to try to hit the farthest targets at 200 feet to 300 feet to rack up the most points to win.
"One important engineering lesson that we have learned is how to think outside the box. In our classes, we are taught to think critically, try new approaches and not give up," said Armenta. "We applied those same lessons to this project."
With up to 5,000 spectators expected to attend the event, the team looks forward to inspiring interest in engineering and science careers, Mendez said.
"We're hoping that children see how fun engineering can be," added Armenta. "We want them to see how amazing it is to learn concepts in a classroom and then apply them outside of school."
Other CSUF student teams competing are:
An alliance of: American Society of Civil Engineers, California Geotechnical Engineers Association, Geo-Institute Graduate Student Organization and Institute of Transportation Engineers
An alliance of: American Society of Mechanical Engineers, Society of Automotive Engineers and Society of Manufacturing Engineers
Chi Epsilon
Institute of Electrical and Electronic Engineers
Natural Sciences and Mathematics Inter-Club Council 
 
Registration and Parking:
Spectators are encouraged to register online at Discovery Cube. Saturday parking is free on campus, 800 N. State College Blvd., Fullerton, 92831. CSUF map and directions are available online. A variety of food truck vendors will be on hand for lunch purchase.
More:
See photos from the 2015 Pumpkin Launch here and watch the video of the 2012 Pumpkin Launch.