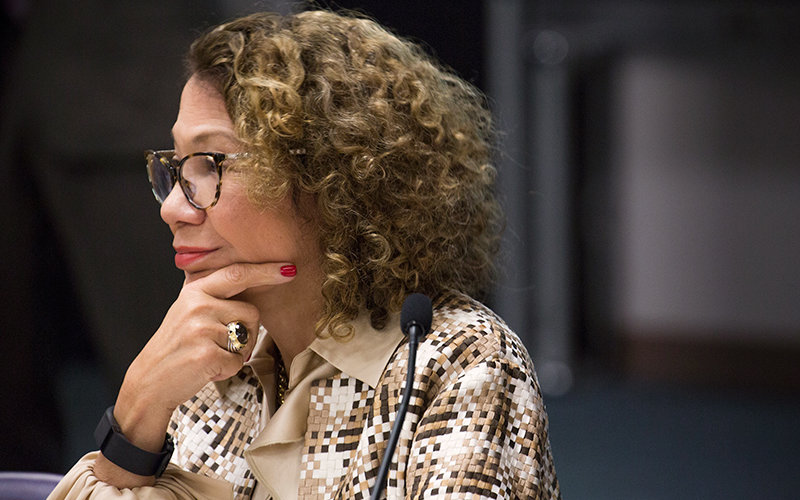 President Mildred García, joined by Danny Kim, vice president for administration and finance, discussed the state of the University's finances during yesterday's (Oct. 27) Academic Senate meeting.
Both stressed that if the state doesn't increase its proposed funding to the CSU, the system will be facing a serious shortfall.
"The current CSU's ask from the state for next year is around $168 million more than what the governor has currently committed," García noted.
In recapping the fiscal year that ended June 30, she relayed: "The governor's final Budget Act of 2016 and the Education Trailer Bill allocated a $154 million base general fund, which is $101 million short of the California State University Board of Trustees' budget request. It also allocated $87 million in one-time state appropriations to the CSU for fiscal year 2016-17." 
While Cal State Fullerton received increases in baseline and one-time budget funding for 2016-17, García explained, mandatory baseline items, such as compensation and health premium increases, reduced the net amount to $19,739,458.
This year, CSUF's baseline operating budget is $386.7 million, with the state allocation making up 44.3 percent of the total; the balance, or 55.7 percent, is from tuition and fees.
Kim noted that 71 percent of the University's operating fund expenditures goes to salaries and benefits, and that the largest share of the expenditures by program is instruction.
"As in the past, I continue to adhere to the following principles: the budget must be balanced; the budget must be aligned with the University's strategic priorities and institutional mission; and the University reserves should be at a sufficient level to address contingencies," said García.
Kim noted that campus reserves are below an "aspirational" level, and García elaborated.
"Last year, the Chancellor's Office issued a guideline that enables campuses to have reserves of up to six months of operating costs," she said. "For our campus, that equals approximately $200 million; we currently have an undesignated balance of $15 million.
"All that being said, overall, the campus ended in a good financial position last year, due in large part to carry forward balances that supplemented the annual operating budgets," she added. "The current year budget is also sound, barring any catastrophic events."
"The real worry is next year," said Kim, pointing to a funding gap of $170 million in what the CSU has requested for 2017-18.
"That means that we must keep our foot on the gas of the philanthropic culture we have built, and continue our advocacy to legislators, state leaders — anyone who will listen to the importance of our mission," García emphasized.
A copy of the Oct. 27 Fiscal State of the University presentation to the Academic Senate is available online.