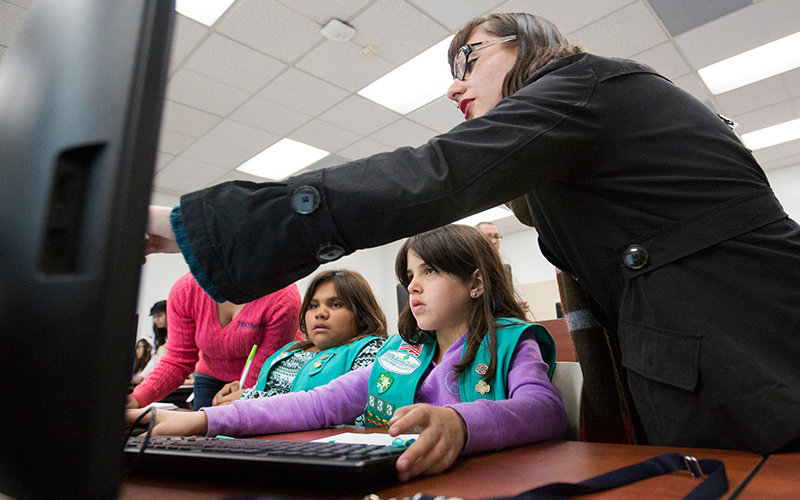 What:
Cal State Fullerton is partnering with the Girl Scouts of Orange County to present a STEM Expo on Oct. 30. The event for local Girl Scouts features lab and campus tours, a panel discussion on careers in STEM (science, technology, engineering and mathematics) and other activities in these disciplines.
Who:
CSUF students and faculty members — from biological science, chemistry, computer science, engineering, mathematics and physics — will mentor more than 300 Girl Scouts in fourth-through-12th grades. CSUF student organizations also will participate in presenting STEM activities.
CSUF's Association for Computing Machinery-Women in Computing (ACM-W) student organization, the College of Engineering and Computer Science, the College of Natural Sciences and Mathematics, along with volunteers from the Girl Scouts of Orange County STEM Patrol, are all partners in the event.
When:
Sunday, Oct. 30
9 a.m. – 4 p.m.
Though not open to the public, the event is open to journalists, including photojournalists.
Where:
Titan Student Union's Portola Pavilion and various college laboratories
Cal State Fullerton
800 N. State College Blvd., Fullerton, 92831
Why:
The event is designed to introduce girls to STEM fields, share experiences and inspire them to pursue STEM college studies and careers. "I started college not knowing what computer science was, and now I have the honor of sharing my passion with a community of young minds," said computer science major Sara Liposky, ACM-W president. "The goals for the event are to instill confidence at a young age to foster change, cultivate potential and increase diversity in the STEM field pipeline for coming generations."
Schedule Highlights:
10 a.m. – STEM panel discussion for girls in grades 9-12 on education, security and technology with Susamma Barua, interim dean of the CSUF College of Engineering and Computer Science, and four STEM professionals:
CSUF alumna Donna Andert '86 (B.S. computer science), a senior-level cloud security architect in the financial services sector
C. Lynn Cowan, a software development project manager at Unisys, a global information technology company
Cindy Shulstad, retired Walt Disney Co. engineer
CSUF alumna Kelly Ann Wright '13, '14, '16 (B.A. mathematics-teaching mathematics , foundational level mathematics credential program and M.S. in education-secondary education) a seventh-grade life science teacher at Brea Junior High School 
10:30 a.m. – Tours of the College of Engineering and Computer Science and College of Natural Sciences and Mathematics
11:15 a.m., 11:45 a.m., 1:15 p.m. and 1:45 p.m.  – Computer science, engineering and science activities and experiments for students in 9th-to-12th grades in CSUF's College of Engineering and Computer Science and College of Natural Sciences and Mathematics-Dan Black Hall laboratories.
1-4 p.m. – STEM Expo, featuring such activities as coding toy robots, virtual reality, rockets, cybersecurity and 3D printing in the Titan Student Union's Portola Pavilion. CSUF STEM student organizations, STEM departments, Girl Scouts of Orange STEM Patrol and industry partners will present activities.
Background:
The ACM-W organization received a nearly $10,000 Google igniteCS grant to help support the STEM Expo. Since last fall, the organization has partnered with the Girl Scouts of Orange County to teach 4th- to-8th-grade girls how to code. This mentorship program also was sponsored by a Google igniteCS grant.
More:
ACM-W advisers are Doina Bein and Beth Harnick-Shapiro, both CSUF computer science faculty members, who are coordinating the lab tours and expo booths with help from CSUF science faculty and staff members Amybeth Cohen, Amanda Evans and Robert Wright.
STEM Learning:
Girl Scouts have the opportunity to participate in activities toward earning their "My STEM Life" badge, developed for Cadettes (grades 6-8) to encourage girls to explore the exciting world of STEM in Orange County and see how it fits into their everyday life and future. Younger Girl Scouts can work on their "STEMsational ME!" badge, created for Juniors (grades 4-5) to help them understand how they use STEM every day to be themselves. All Girl Scouts in attendance will receive a STEM participation patch.
Media Contacts:
Doina Bein and Beth Harnick-Shapiro, CSUF Computer Science
Debra Cano Ramos, CSUF
Paula Selleck, CSUF
Elizabeth Fairchild, Girl Scouts of Orange County