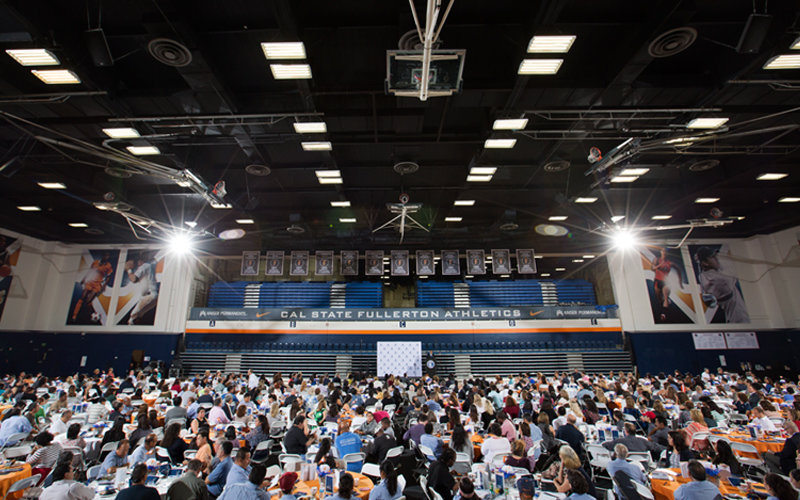 Hundreds of faculty and staff members gathered today (Oct. 20) to join in a campuswide celebration recognizing individuals and groups for special accomplishments, years of service, faculty tenure and/or promotion and staff completion of certificates of degree programs.
"We are here to celebrate all of you for your years of accomplishments," said Gail Brooks, interim vice president for human resources, diversity and inclusion. "It's not necessarily the length of time but the outstanding quality of the contributions that you have made during that time."
President Mildred García echoed that sentiment. Your efforts, she told those in attendance "reflect who we are as Titans … that we continue to work harder and reach higher …" in that spirit of excellence seen through all that the university has accomplished.
"I am honored to be part of this tradition," in celebrating your achievements, said García. "Our state, our community are grateful for the great work you do."
Earlier this year, when nearly 10,000 students graduated from Cal State Fullerton, she added, "You should be saying 'I had a part in that.'"
"All of us know that education is not a journey we make alone," said Anil Puri, interim provost and vice president for academic affairs. "Each student is guided and inspired by someone on this campus."
Announced during the universitywide ceremony were:
Diversity, Equity and Inclusion Award
The faculty members of the doctoral program in education leadership were honored for their work in fostering just, equitable and inclusive education. The 2016-17 academic year marks the 10-year anniversary of the Ed.D. program, offered within the College of Education's Department of Educational Leadership. Since its beginning, the program has prepared a diverse student body for academic and professional success, as reflected in this year's incoming class: it is both the largest, with 50 students, and most racially diverse — 70 percent nonwhite — in the program's history.
Members of the team are: Meri Beckham, Daniel Choi, Ding-Jo Currie, Marc Ecker, Eugene Fujimoto, Jennifer Goldstein, Rebecca Gutierrez Keeton, John Hoffman, Carol Lundberg, Ron Oliver, Dawn Person, Natalie Tran and Estela Zarate.
Teamwork and Collaboration Award
Members of the University Police Department were honored for the establishment of Encouraging a Positive and Interactive Community (EPIC), an outreach program to increase open lines of communication, trust, understanding and awareness with other members of the campus community. The effort included meetings with various groups across campus and informal "Coffee with a Cop" discussions to open up opportunities for better understanding. The program also offered opportunities for campus members to experience the split-second decision-making required of law enforcement officers by taking part in "Shoot or Don't Shoot" simulations.
Members of the team are: Jesse Blanpied, Karlton Bridgewaters, Katie Cappuccio, Iris Cortes, Carl Jones, Hoang "Wayne" LeQuang, Kyle Millard, Jason Miller, Tom Perez, Jose Rosales and Scot Willey.
Leadership Award
Stephen Stambough, professor of political science, was recognized for launching the Cal State D.C. program in 2006 as a way to help students gain experience working in our nation's capital. Since then, under his leadership, more than 400 students have participated — working in the Capitol as well as the offices of the House of Representatives members, the U.S. Senate, federal agencies and advocacy groups.
Half Century of Service
For the first time in University history, the campus celebrated a 50 years of service. Honored was Irene Lange, chair and professor of marketing, who has spent not only 50 years in the classroom but also 41 years leading the Marketing Department. 
The campus also honored 19 members of the campus community for more than 30 years of service. More information about these and other faculty and staff recognized for tenure serving Cal State Fullerton is available in a related article.
Also Recognized
Faculty members who had achieved tenure and/or promotion and staff members who had completed certificates or earned degrees also were recognized during the morning program.
Degree recipients:
Rachael E. Amaro, History
Master of science in education, CSUF
Pat Ashley, Center for Careers in Teaching
Master of art in christian studies, Grand Canyon University
Caren Bautista, Center for Careers in Teaching
Master of science in education, CSUF
Yessica De La Torre, Student Affairs
Master of science in education, CSUF
Laney Renee Kurator, Freshman Programs
Master of art in education, San Diego State University
Colleen McDonough, Student Affairs/College of Natural Sciences and Mathematics
Ph.D. in higher, adult and lifelong education, Michigan State University
Futoshi Nakagawa, Athletics
Ed.D., educational leadership, CSUF
Summer Rivera, Athletics
MBA, CSUF
Doug Schroettinger, Auxiliary Services Corp.
MPA, CSUF
Rubaiya Zaman, Center for Demographic Research
MBA, CSUF
Silvia Zamudio, Academic Programs – First Year Experience
Master of science in education, CSUF
Tiffany Zanias – Office of the Provost/Vice President for Academic Affairs
MPA, CSUF
Certificate recipients:
Sinta McGee, Health Science — certificate in professional office administration, Cal State Fullerton
Porshe Gipson, University Advancement— certificate in professional meeting planning and special events, Cal State Fullerton