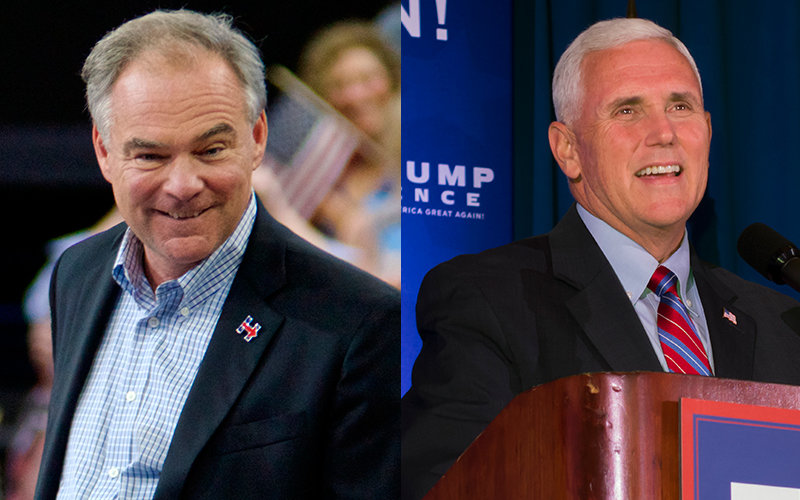 Vice presidential candidates Gov. Mike Pence and Sen. Tim Kaine were on the defensive for much of their first head-to-head debate this year. But after watching Tuesday evening's debate, Cal State Fullerton faculty experts and some students questioned whether the banter was enough to motivate undecided voters.  
Stephen Stambough, professor of political science, and Jon Bruschke, professor of human communication studies, posted live comments to the University's Presidential Debate Portal and judged the candidates' performance during the debate.
Stambough, declared Pence the polished winner, judging on the candidates' ability to articulate a vision "so people understand the leadership style and direction.
"Pence will make some Republicans wish he was their candidate, because he gave a strong performance," said Stambough, who has worked on political campaigns across the country. "That can be a plus and a minus for Trump. Pence came across as a serious adult, but if Trump becomes undisciplined again he will look bad in comparison."
Kaine tried to set the stage for the post-debate stories by making Pence defend Trump's comments, he said. "Substantively, this was more of a traditional Republican vision versus Democratic vision. This may change the conversation away from Trump's bad week, but mostly it will have little impact on the election."
Bruschke chose Kaine as the winner, based on substance and issues. Pence was playing defense, but was mostly ineffective, said Bruschke, a former debate coach at CSUF and the 2004 National Debate Coach of the Year.
Among the night's notable moments, according to Bruschke:  
"Kaine repeatedly attacked Trump for his treatment of women, but did so by repeatedly ignoring and talking over the female moderator. That weakened the message," he said.
"Pence was attempting to scoff and guffaw away criticisms of Trump's various insults. Those insults might or might not be important, but to treat the allegation that Trump uses insults as a baseless charge, not worthy of response, is simply out of step with now months of evidence that it is an issue that deserves a response."
The continued hostility of the campaign has "pushed millennials away from voting," said Amanda Isabel Martinez, a senior majoring in political science with a minor in economics and chief governmental officer for Associated Students Inc.
"This election is crucial to millennials, because it may be the first time they get to vote and make their voices heard," she said.
Shelly Arsneault, professor of political science, remarked on the candidates' tone, too.
"It was clear that Kaine's goal was to get Pence to defend many of the things that presidential candidate Donald Trump has said. Pence did not take the bait. On one hand, that made him appear to be more composed than Kaine, which scores him early points. On the other, as people replay clips, fact check and consider the content of the debate, they may come to the conclusion that Pence didn't defend Trump because much of what he has said is indefensible."
Other Campaign 2016 stories: 
CSUF Experts React to First Presidential Debate
Secretary of State Alex Padilla Joins CSUF's Efforts to Register Young Voters

The Millennial Vote                             
Political Experts Discuss the Possibility of a Brokered GOP Convention
CSUF Experts Use New Campus Website to Judge Presidential Candidates During Live Debates
Campus Political Science Experts Say Fear Drives Voters