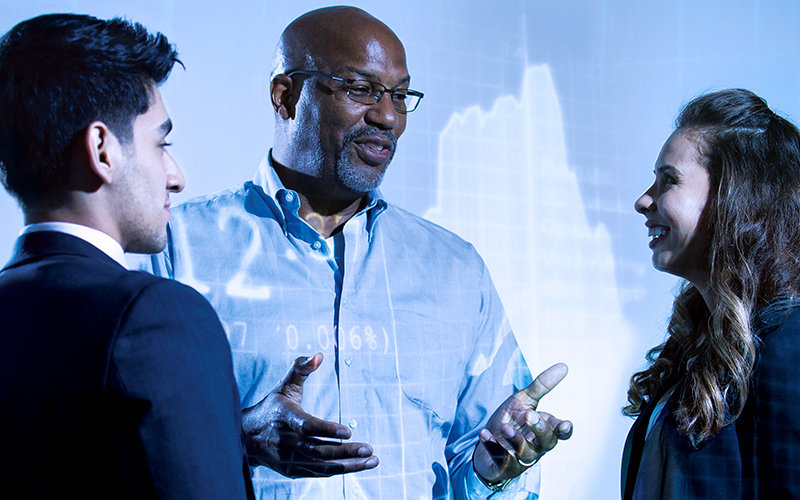 Cal State Fullerton's Mihaylo College of Business and Economics is celebrating the completion of a new, state-of-the-art investment management center that creates an environment similar to that found in major financial institutions, including access to Bloomberg terminals.
The 2-4:30 p.m. Dec. 2 grand opening and ribbon-cutting for the Titan Capital Management Center recognizes the $1.5 million gift from alumnus Jeffrey S. Van Harte '80 (B.A. business administration-finance), chair and chief investment officer of Jackson Square Partners. His gift made the center possible.
Though not a public event, news media are invited to attend. 
Van Harte's gift also funded the expansion of an existing student-managed investment fund that he helped create.
"This new learning space and the long-term support of Jeffrey Van Harte are enhancing the educational experience students already receive," said Morteza Rahmatian, interim dean of Mihaylo College. "It allows us to expand the current offering in equity analysis to the bond markets and other investments, thus growing the scope of the financial analysis program."
Alumni who participated in the Applied Securities Analysis Program are now working in positions at Disney, Deutsche Bank, Edward Jones, Goldman Sachs, U.S. Trust and Wells Fargo.
Current students, like senior finance majors Ronald Rangel and Austin Maleki are gaining real-world insight into the markets that will help them in their career endeavors. Both have secured full-time jobs after graduation in May.
Van Harte, a resident of San Carlos, was a contributor to the Campaign for the College of Business and Economics and has given to other areas of the University, including the golf program and the Center for Oral and Public History. He currently serves as chair of the Cal State Fullerton Philanthropic Foundation Board of Governors.