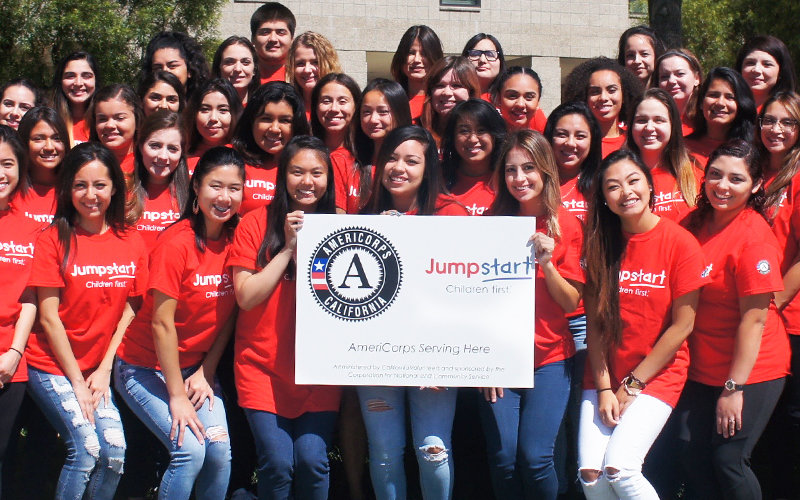 Forty-seven Cal State Fullerton students are participating in a national program to support children and teachers in low-income neighborhoods.
As Jumpstart members, Titans spend two days a week leading educational activities in Santa Ana and Anaheim preschools. CSUF has participated in the program for the past 13 years, helping to improve literacy and language skills among local children.
"Jumpstart is a great opportunity for students who are interested in teaching or working in early childhood education to get hands-on experience," said Katie Herbst, CSUF's Jumpstart program coordinator.
With its record of success and commitment to the program, CSUF was selected this year as one of five sites across the nation to pilot a new Jumpstart curriculum, which focuses on oral language skills and social-emotional development.
"We chose CSUF because the University has a strong history of support for Jumpstart, an established service-learning course and some of the highest child gains in our network," said Hillary Roselund, senior director of education and research at Jumpstart. "Piloting at a high-quality site lets us really dig into how the curriculum changes impact children's development and kindergarten readiness."
"It's exciting that we were selected to give feedback to Jumpstart national on the effectiveness of this new curriculum," said Herbst. "Our students are really empowered to have a say in the future of the Jumpstart curriculum."
A partnership between CSUF's Center for Internships and Community Engagement and Child and Adolescent Studies Department, the national Jumpstart organization and the federally-funded AmeriCorps program allows students to earn course credit, complete service-learning or internship hours, and/or receive an educational award of up to $1,200. 
Jumpstart members are expected to collectively complete 14,000 hours of service during the 2016-17 academic year.
"Being in Jumpstart has allowed me to put to the test everything that I have learned in my child development classes," said Lizeth Chapman, a senior child and adolescent development major who is serving her fourth year with the Jumpstart program. "It has allowed me to think thoroughly on my practices and develop my own teaching skills."
In addition to the academic, social and emotional benefits of participating in Jumpstart, students also learn about civic engagement and social justice.
"It's inspiring to see students go above and beyond the regular internship or service-learning component and commit to making a difference in the lives of children," said Herbst. "Students gain a broader understanding of how they can become advocates of early childhood education and educational equity."