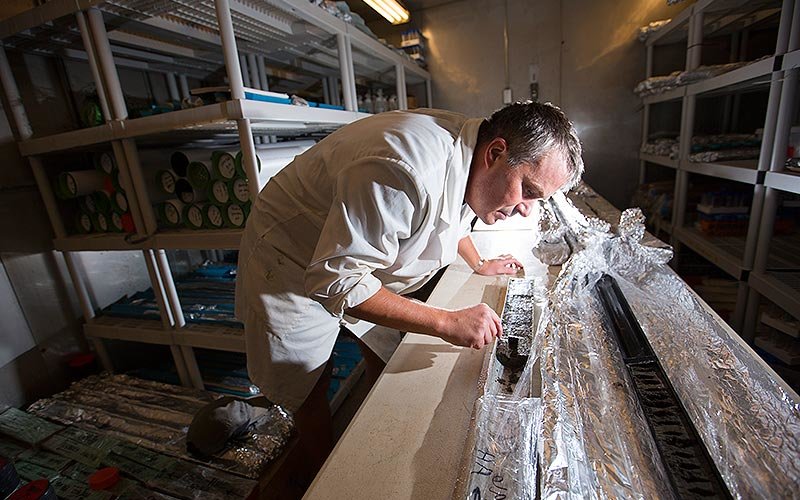 Despite recent rainy weather, it's likely going to be another dry winter in Southern California as La Niña ushers in warmer weather and little rainfall, Cal State Fullerton scientists forecast.
In his latest study, which focused on the past 1,400 years of wetness and dryness in central coastal areas of California, paleoclimatologist Matthew E. Kirby and his students found evidence that changes in the Pacific Ocean play a key role in both wetter and drier weather patterns.
These results support Kirby's related studies, which concluded that in the ancient past — dating back 10,000 years — the state suffered from long dry spells, even multicentury drought, linked to Pacific Ocean conditions.
"In this latest study, we continue to find evidence that sea surface temperatures in the Pacific Ocean govern the state of winter climate in coastal California. Cooler conditions in the eastern tropical Pacific are consistently associated with dry periods in California's history," said Kirby, professor of geological sciences who studies past climates.
"How future warming of the Pacific will change drought and pluvial conditions in the state remains hotly debated: Will El Niño weather become more intense? Will the La Niña phenomena become equally more intense?"
National Oceanic and Atmospheric Administration scientists forecast a weak La Niña this winter, which means a relatively dry winter, and likely to contribute to the severe drought conditions across the majority of the state, especially in central and Southern California.
La Niña follows last winter's El Niño, which brought much-needed rainfall to the northern part of the state, but fizzled in Southern California. During La Niña conditions, the ocean water is cooler than usual and triggers warmer and drier weather in the southwestern United States, said Joe Carlin, assistant professor of geological sciences.
"As La Niña arrives, this is likely not a good sign for the drought in Southern California," added Carlin, a marine geologist. "Odds are it is going to be a dry winter."
Carlin explained that doesn't mean the region will not get rain or some storm events. "We may still see a couple of isolated big storms, but it is unlikely that we will see frequent storms like what we would expect during an El Niño," he said.
Kirby's research, published in the Journal of Paleolimnology with alumna Christine Kraft-Hiner '12 '15 (B.S., M.S. geology), studied sediment samples retrieved from Abbott Lake, a natural lake near Carmel.
Findings indicate that coastal central California was relatively dry during the Medieval Climatic Anomaly — a warm, dry period from about 900 to 1300 AD — yet variably wet, with more rainfall, during the Little Ice Age, a cooler period from about 1450 to 1850 AD. Kirby's past climate studies have focused on sediment samples from Zaca Lake (northwest of Santa Barbara), Lake Elsinore and the Mojave Desert's Silver Lake.
"What we're finding in those locations also are consistent relationships between tropical Pacific conditions and periods of wetness and dryness. What is significant is we're seeing this relationship persist over time and showing up in all these records," said Kirby.
"Finding evidence for sustained periods of drought similar to the Medieval Climatic Anomaly throughout the past 10,000 years prompts the question: 'At what point do you stop calling it a drought, and rather, a new drier climate state?' I start to wonder if these dry periods we're seeing today will become the new normal."