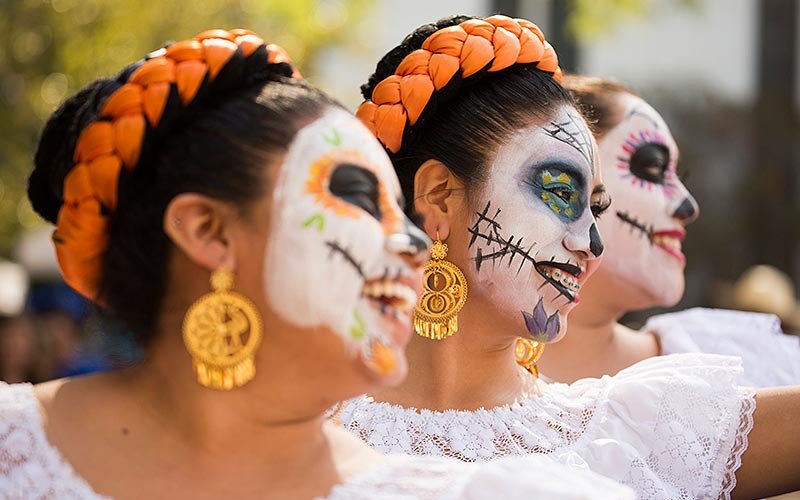 Visions of marigolds, candles and skulls filled Cal State Fullerton this week, as the campus and community gathered to celebrate Día de los Muertos.
Hosted by several student organizations, the Nov. 1-2 festivities included live music and dance performances, arts and crafts, altar exhibitions, face painting and a candlelight vigil.
"Día de los Muertos is a day of remembrance," said Leslie Molina, a fifth-year human services major minoring in Chicano studies. The holiday holds special meaning for Molina, who has personally "lost a lot of loved ones, especially around my age."
Molina serves as financial director for Movimiento Estudiantil Chicano de Aztlán (M.E.Ch.A.) de CSUF and helped organize the Nov. 1 activities. "The community here at Cal State Fullerton is so open-minded," she said. "I love coming to a school where we can teach each other about our cultures. It's a really beautiful give and take."
Sandra Medina, a fourth-year ethnic studies-Chicana and Chicano major, serves as co-chair of the Chicana Chicano Studies Alliance (C@SA) and was one of many involved in planning the Nov. 2 festivities. Other event organizers included Xicanx Feminist Alliance, Hermanos Unidos and the Latino Business Student Association.
"We have a lot of Latino students on campus, so the holiday is one way to bring us together as a community," said Medina. "Since I became involved in Día de Los Muertos, I have been able to connect with a lot of people and organizations on campus, learn more about the holiday, and be closer to my roots."
Both events were co-sponsored by Associated Student Inc.'s Association for InterCultural Awareness.