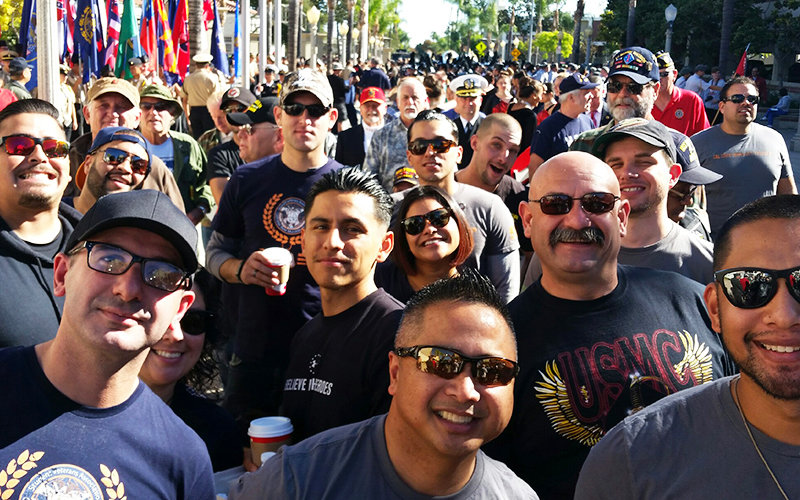 Cal State Fullerton's Veterans Resource Center and the Student Veterans Association host VetWeek 2016, a weeklong series of events to pay tribute to student and community veterans.
According to the resource center, 508 students have self-identified as veterans.
"VetWeek is an opportunity for the Titan family to honor the contributions and sacrifice student veterans have made in their service to our country," said Lui Amador, director of the Veterans Resource Center. "It's also my hope that the campus takes this opportunity to remember and reflect on the service of all veterans and current members of the military."
Flag Raising Ceremony
The Veterans Resource Center, CSUF ROTC and University Police honor veterans in the Titan community with a 9 a.m. Nov. 8 flag raising ceremony in front of Langsdorf Hall.
Meet-a-Vet at Titan Walk
Campus and community members can meet and get to know some of the University's student veterans from 10 a.m. to noon Nov. 9 along the walkway near Titan Shops and the Becker Amphitheater.
Marine Corps Birthday
The Veterans Resource Center celebrates the U.S. Marine Corps' 241st birthday with cake Nov. 10 at noon in Room 229 of University Hall.
Vets vs. Cadets Flag-Football Game
Titan veterans and ROTC cadets face off in a Nov. 10 friendly flag-football game. Pre-game festivities begin at 2 p.m. near the intramural fields, and the game kicks off at 5 p.m. at the track and field area. Details are available online.
Fullerton Veterans Day Parade
Veterans and supporters from CSUF and Fullerton College will participate in the Nov. 11 Fullerton Veterans Day Parade, beginning 10:20 a.m. at Wilshire Avenue. Parade information is available through the City of Fullerton.
Contact:
Veterans Resource Center, 657-278-8660