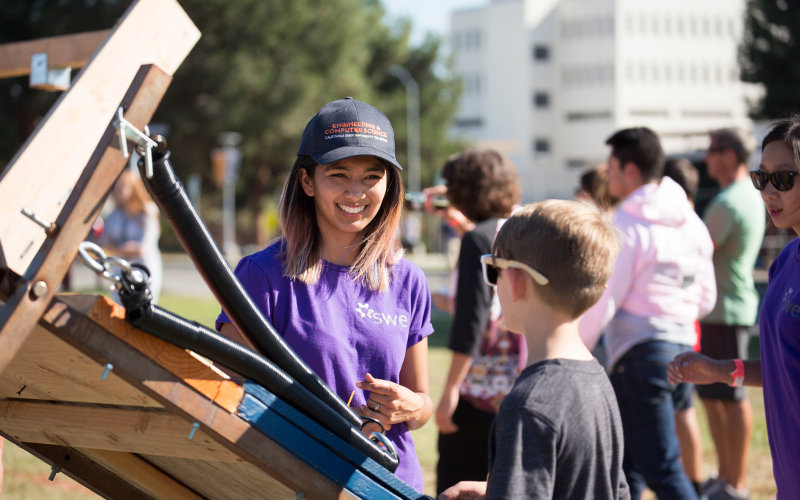 Members of Cal State Fullerton's Society of Women Engineers (SWE) tied for second place out of 15 teams in the Nov. 5 Pumpkin Launch competition on campus. It was the fifth time the group was a top-place finisher in the competition.
"Pumpkin Launch is the one chance our members have to get hands-on engineering experience. We enjoy competing because basic physics and engineering concepts are put to the test in a fun way," said Paulina Mendez, SWE president and civil engineering major. "We have a nice winning streak going so we take this competition very seriously."
About 4,000 community members came to campus to watch the college, high school, middle school and community teams fling pumpkins — launched from giant trebuchets, catapults and other engineering- and physics-inspired contraptions — at medieval-themed targets. Five CSUF student teams participated in the pumpkin launching competition. The annual fall event also featured hands-on challenges and family-friendly science activities.
"Many of the younger spectators came up to us after the competition and were interested in learning how we came up with the design of our launcher. That's what this event and SWE is really about: Getting kids interested in science, technology, engineering and mathematics," Mendez added.
In addition to Mendez, members of the SWE team are civil engineering students Shelley Rodriguez, Ana Armenta, Evelyn Chang, Eric Kim and Mary Vu, an electrical engineering major. Alumnus William Purpura (B.S. engineering-mechanical '76, M.S. engineering-mechanical '79, MBA '83), mentored the team and donated materials.
First-place winner was "Senioritis," a community team, and the other team that tied for second place was the Santa Ana College Engineering Club. CSUF's College of Engineering and Computer Science, Discovery Cube and the George Westrom & Family Foundation hosted the ninth annual event.
For more photos, visit CSUF photos.