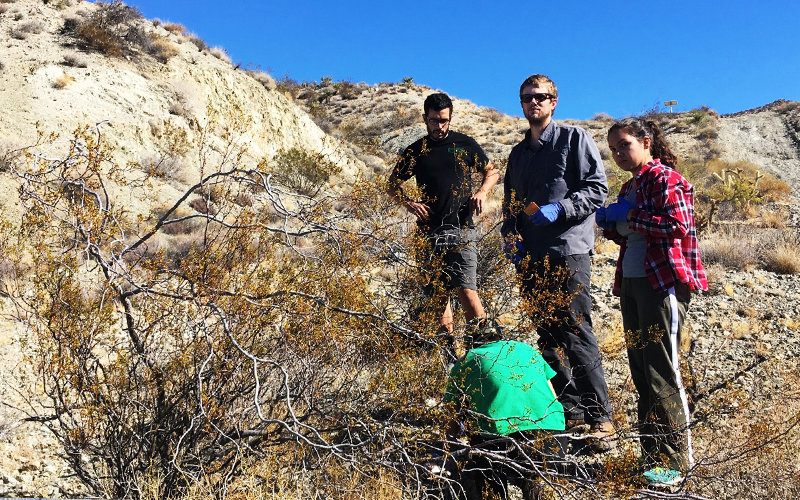 This time of year, mistletoe is a festive holiday decoration. But scholars in Cal State Fullerton's Southern California Ecosystems Research Program (SCERP) are studying a different type of mistletoe — a close relative called desert mistletoe.
Desert mistletoe is a leafless parasitic plant that steals water and nutrients from several species of shrubs and trees, such as acacia and mesquite, in the Mojave and Sonoran deserts. At the same time, desert mistletoe provides important food and nesting habitat for birds.
Parasites can either be generalists, which attack many kinds of hosts, or specialists, which attack a single kind of host — and there are trade-offs associated with each, explained faculty mentor Joshua P. Der, assistant professor of biological science.
"Generalists are less picky and have a broader selection of hosts from which to choose, but they may not exploit them all equally well," Der said. "On the other hand, specialists are limited to only a few hosts, but are more efficient at establishing a parasitic interaction and extracting the resources they need."
The study focuses on how different host species affect adaptation in the mistletoe. "If mistletoe populations are specializing on different hosts — as appears to be happening — this has implications for biodiversity and ecological interactions in the desert," Der said.
As habitats are fragmented and destroyed in the desert, due to such factors as climate change, mining or solar power development, it is important to document biodiversity and ecological interactions to understand how changes in the desert may affect biological communities, he added.
The scholars — Kyle Gunther, Cherise Austin, Alejandra Garcia, Caitlin Stapp and Sean Zulueta, all biological science majors — conducted research in the Mojave Desert, including areas around the California State University Desert Studies Center, both within the Mojave National Preserve and adjacent areas. They continued their work in the lab, extracting the DNA from the desert mistletoe samples collected. William J. "Bill" Hoese, professor of biological science and co-director of SCERP, a National Science Foundation-funded undergraduate research project, also mentored the students on the research effort. 
This fall, Gunther presented the research findings at the 42nd annual Southern California Botanists Symposium at Pomona College and won a best poster award. 
While desert mistletoe is capable of attacking both acacia and mesquite, at the students' study site in the Mojave Desert, only mesquite was being attacked and not other shrubs, Gunther said. 
"This suggests that this population of desert mistletoe is parasitic only on mesquite at this particular site, which means that this population of desert mistletoe is adapting to specialize on that shrub. In other words, it has evolved to become a preferred parasite on mesquite," Gunther added.
Gunther and biological science student Goseline Huerta plan to continue working on the project in the spring semester.