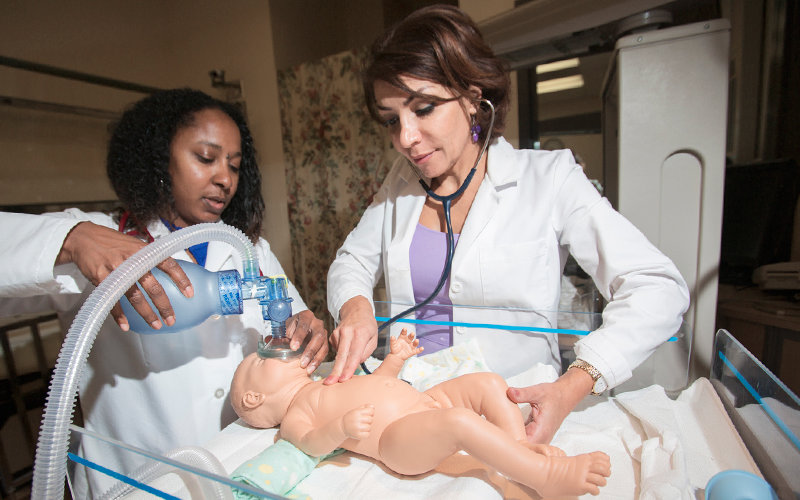 With a growing demand for midwifery services as well as initiatives to improve newborn outcomes and reduce the number of cesarean-section deliveries in the United States, Cal State Fullerton is one of three universities in the state — and one of approximately 40 nationally — leading the charge to prepare nurse-midwives for the workforce.
"Midwives are central in the Netherlands, England and Scandinavia — some of the world's leading maternity care systems — while in the United States, 90 percent of births are attended by physicians," said Ruth Mielke, an associate professor of nursing with more than 25 years of midwifery experience. "But that's going to change."
The Centers for Disease Control and Prevention reports that in 2014 there were nearly 4 million births nationally.
Employment of nurse-midwives, nurse-anesthetists and nurse-practitioners is projected to grow 31 percent from 2014 to 2024, according to the U.S. Bureau of Labor Statistics.
"There is a great need to train more nurse-midwives because we're losing many OB-GYN residents to other specialties, such as high-risk obstetrics and infertility," said Mielke.
A nurse-midwife is a primary care professional who independently can manage the prenatal care, delivery, birth, postpartum or after-care, and newborn care during the first month of life. Nurse-midwives also provide care to women from adolescence to menopause and can prescribe medications.
Each year, Cal State Fullerton's graduate-level nurse-midwifery program receives 40 to 50 applications from prospective students for its 12 to 15 slots.
"CSUF has a highly competitive program," said Mielke, who coordinates the nationally-ranked women's health care concentration. "Our students are high achievers. A lot of them come with quite a bit of life experience and really have a passion to make birth better and women's care better in the United States."
Enrollment is largely limited by the number of available sites — current partners include Kaiser Permanente and Eisner Pediatric & Family Medical Center — where students can complete their 1,000 hours of required clinical service. CSUF's Student Health Center also serves as a training site for primary care.
The University's nurse-midwifery program is committed to placing students in underserved clinical settings, hiring doctorally-trained instructors and graduating students who are ready to be nationally certified as nurse-midwives.
"I appreciate that the professors are all very knowledgeable and up-to-date in the field of midwifery, and they are all in professional practice, as well as academic practice, concurrently," said Becky Johnson, who graduated from the program in August and works as a certified nurse-midwife for Mendocino Community Health Clinic. 
Johnson chose to pursue a career in midwifery because it combined her love for birth and babies, with being able to meet a great need for women's health care in the U.S. and the world.
"CSUF's program provided me with a range of experiences, including involvement in clinical training, professional meetings and political advocacy," she said. "Upon exiting the program, I felt very prepared to begin clinical practice."
In 2015, CSUF became the first nurse-midwifery program in the United States to purchase a MedaPhor ScanTrainer, one of the leading ultrasound simulators in the world.
"Fullerton is leading the way in what we hope will be an important new teaching area for ScanTrainer in the United States," said Stuart Gall, CEO of MedaPhor.
"Ultrasound skills are not required nationally for nurse-midwives, but more and more midwives are incorporating that in their practice," added Mielke. "Our students graduate from the program having basic ultrasonography skills, and it really gives them an edge for finding jobs."
Since the program began in 2004, CSUF's nurse-midwifery students have achieved a near 100 percent first-time pass rate on the American Midwifery Certification Board's national certifying exam.