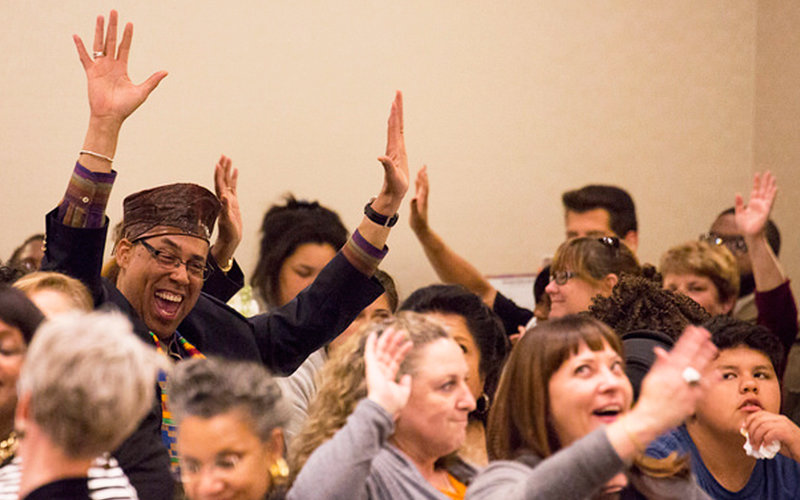 A Tuesday, Feb, 7, reception featuring a talk by Joel Abraham, associate professor of biological science, and hosted by President Mildred García is one of the activities scheduled for Black History Month.
A member of the campus community since 2011, Abraham earned his doctorate in integrative biology at UC Berkeley and his undergraduate degree in biology at Howard University.
The scholar has authored a number of articles on undergraduate student education and was awarded a 2013 grant from the J.D. Bechtel Jr. Foundation Undergraduate Science Preparation of Future Elementary Teachers grant. He also is a co-director in a National Institute of Food and Agriculture-funded project, "Expanding Opportunities for Hispanic Undergraduates Through an Urban Agriculture Community-Based Research Experience (U-ACRE)" and the National Science Foundation-funded "DIP: Using Dynamic Formative Assessment Models to Enhance Learning of the Experimental Process in Biology."
The 5:30-7:30 p.m. reception will be held in Portola Pavilion of the Titan Student Union (TSU).
Other scheduled activities:
Feb. 2 — African American Resource Center Open House from 2-4 p.m. in Room 222 of the Humanities-Social Science Building. Trimaine Davis, coordinator for the center, will give a presention.
Feb. 15 — Film Dialogue: "Birth of a Nation" from 1 to 4 p.m. in the the African American Resource Center, HSS-222.
Feb. 17 — "Thrones of Black Kings," semi-formal dinner and award event created to recognize men of color on campus. Keynote speaker will be Vincent Harris, director of the Male Success Initiative. The 6-10 p.m. program will be held in TSU's Portola Pavilion. RSVPs requested; for more information, email sistertalk12@gmail.com  
Feb. 23 — Pan Afrikan Fair, 11:30 a.m. to 2:30 p.m. in Becker Amphitheater.
Feb. 25 — Fall in Love With Fullerton Day, a preview of the campus for newly admitted students and their families. The 8 a.m. to 1 p.m. program, in Steven G. Mihaylo Hall, features workshops, campus tours and information on financial aid and scholarships. Event registration available online or by calling 657-278-2086. 
Feb. 25 — The 2017 Social Justice Summit, "Listen Understand Advocate," with keynoter Tyler Parry, assistant professor of African American studies. The event in the TSU's Portola Pavilion is free and open to the public.