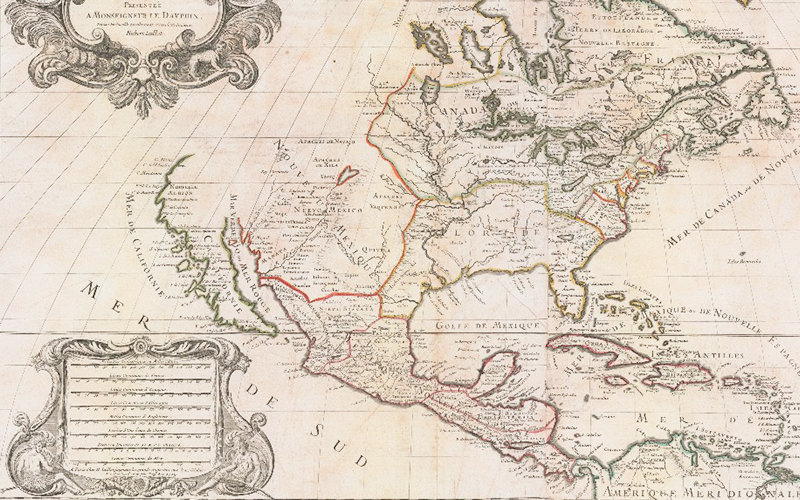 Editor's note: This story has been updated to include a Feb. 13 event.
Throughout the 17th and 18th centuries, many believed California was a remote island with plenty of gold, free-loving amazons and strange beasts.
A new exhibit at Cal State Fullerton's Pollak Library features a selection of maps from the Roy V. Boswell Collection for the History of Cartography, one of the University's special collections. The exhibit, "California As an Island and Worlds That Never Were," will be on display Jan. 22 to March 29 in the Salz-Pollak Atrium Gallery.
"Mapmaking is the confluence of science, art and history," said Patricia Prestinary, University archivist. "We are excited about presenting this collection, which was intended to become a resource for interdisciplinary study."
The collection was established in 1971 by CSUF founding librarian Ernest W. Toy and Roy V. Boswell, a rare book and antiquarian map authority. The collection reached its present size of more than 1,500 maps by 1985 — all of which have been recently digitized and added to the University's repository.
Related event:
The Pollak Library, Department of Geography and the Environment, and the Department of History present a Feb. 13 program, "Maps and Geography: Exploring the Past, Present and Future." The free, public event will be held from 10 a.m. to 3:30 p.m. in Room 130 of the Pollak Library.
Presentations from faculty and community experts include:
Welcome, 10 a.m. — Scott Hewitt, interim University librarian, and Patricia Prestinary, University archivist
"Monsters and Marvels: Iconography and Meaning in Early Modern Maps," 10:15 a.m. — Gayle K. Brunelle, professor of history
"The Last Time California Left the Rest of the Continent," 11:20 a.m. — Bill Warren, member, International Map Collectors Society
"The Whole World in Your Hand: Maps in the Early 21st Century," 1:20 p.m. — John Carroll, interim director of academic technology
"Augmented Reality Sandbox," 2:30 p.m. — Greg Beringer, geography graduate student