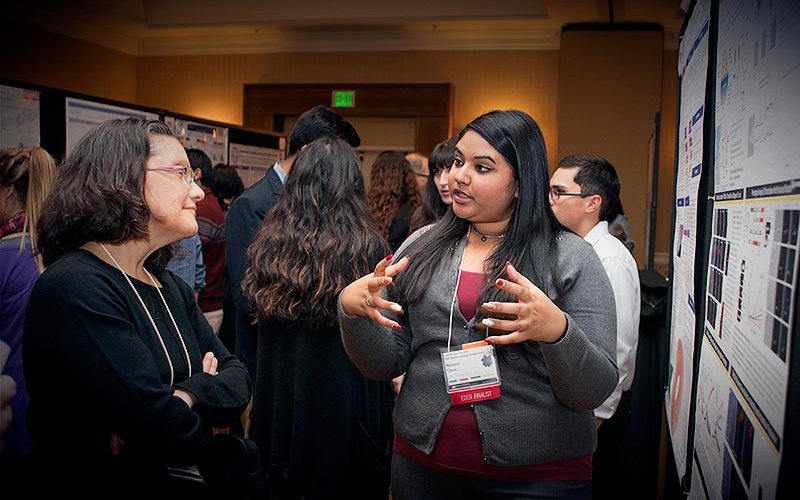 Cal State Fullerton science students won top awards from Cal State University's Program for Education and Research in Biotechnology (CSUPERB) for their research projects on understanding how plants fight viruses, parasites affect humans, as well as for outstanding student teaching.
The student researchers were recognized at the CSU Biotechnology Symposium in Santa Clara Jan. 5-7, where students, faculty mentors, alumni, administrators and partners gathered to share how they are advancing innovation in the life sciences. With more than 700 participants, including from CSUF, this year's symposium was the largest yet.
The 29th annual event received 290 abstract submissions from 22 CSU campuses, representing research from faculty-led labs across the state. CSUPERB's annual awards were presented to the students and faculty who reflect the best of research, teaching and service in biotechnology and related fields. The 2017 award winners from CSUF are:
Carina Sandoval, biological science, Glenn Nagel Undergraduate Research Award
Noopur Dave, biology, Don Eden Graduate Student Research Award
David Hsu, biology, Crellin Pauling Student Teaching Award
Sandoval works with faculty mentor Melanie Sacco, associate professor of biological science, on research to help plants fight viruses. She is studying one type of immunity, which fights viruses that can infect crop plants, such as tomatoes. Her goal is to become a university professor to continue her academic research to help fight plant disease, improve agriculture and establish a sustainable future.
"Our world is facing the challenge of producing enough food for our growing population, but with the use of agricultural research, we can halt food insecurity by decreasing the number of devastated crops," said Sandoval, a student in both the Howard Hughes Medical Institute Research Scholars Program and Ronald E. McNair Scholars Program.
"I've learned that biotechnology can be used to generate greater crop yields and ensure the survival of certain foods like papaya."
Sacco said that her student is deserving of the recognition because of her "exceptional devotion to research," adding that Sandoval has developed "incredible talent" as an undergraduate researcher.
Dave is involved in research, with faculty mentor Veronica Jimenez, assistant professor of biological science, focusing on how parasites that affect humans and animals are able to detect their environment and respond to changing conditions.
"Noopur is conducting cutting-edge research that has also been recognized at local and national meetings," noted Jimenez. "She is an enthusiastic and hard-working student who has grown to be an independent researcher and is on her way to getting accepted into a Ph.D. program in biomedical sciences."
Dave, a CSUF alumna who earned her bachelor's degree in biological science in 2013, was the HHMI Master's Research Scholar in 2015.
In selecting Hsu for the graduate student teaching award, the CSUPERB committee was particularly impressed with his intentional approaches to teaching, incorporating peer discussions and encouraging students to learn from failure.
Since fall 2014, Hsu has been a teaching assistant for the General Microbiology course. His teaching assistant supervisor, Esther Chen, associate professor of biological science who nominated him for the award, called Hsu an outstanding leader and classroom teacher.
"David challenges students to think critically, involves all students in the classroom, and constantly thinks about how to improve the course and enhance the learning experience," she said.
For more information about the awards, visit online.