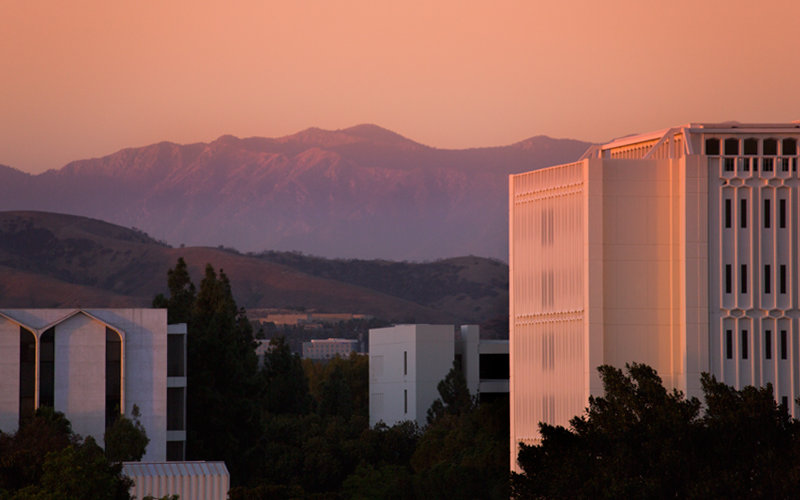 Cal State Fullerton faculty, staff and administrators completed the fall semester and the second fiscal year quarter, receiving more than $5.7 million in grants and contracts for a variety of programs that help students succeed in their educational endeavors, as well as support faculty research projects.
Among those receiving awards this quarter:
David Chenot, chair and associate professor of social work: $1,472,590 from the Regents of the University of California, Berkeley, for "Title IV-E Stipend Program-MSW Project." The federally funded California Social Work Education Center (CalSWEC) stipend program provides for two years of support, at $18,500 per year, to full-time students enrolled in the child welfare concentration. Part-time students also are eligible for stipends that cover tuition, books and travel. Chenot also was awarded $151,000 from the Regents of the University of California for the "Educational Stipend Program — Masters of Social Work in the Public Mental Health Services."
Mark Filowitz, interim associate vice president, academic operations: $1,171,681 in first-year funding of a five-year U.S. Department of Education grant for Project RAISE (Regional Alliance in STEM Education).
Sora Tanjasiri, chair and professor of health science: $623,994 U.S. Department of Health and Human Services' Health Resources and Services Administration award for Health Careers Opportunity Program (HCOP).
Katherine Powers, director of graduate studies: $521,265 U.S. Department of Education grant to continue the project "Latina/o Graduate Students: SOAR (Strengthening Opportunities, Access and Resources) at CSUF."
Victor Rojas, project director, Upward Bound: $373,118 from the U.S. Department of Education in support of "CSUF Upward Bound Program." This is the last year of funding under this five-year grant; total funding for the length of the grant is $1,803,172. Related story: University Program Prepares Students for College Success
Lilivao Tautolo, director of the Student Support Services Program: $301,110 in second-year funding from the U.S. Department of Education for the Student Support Services Program.
Gina Passante, assistant professor of physics: $275,789 National Science Foundation award for "Collaborative Research: Research as a Base to Develop Adaptable Curricula Bridging Instructional Paradigms in Quantum Mechanics."
Michael Daniel, director of the CSUF Small Business Development Center:
$220,000 from the Seismic Safety Commission for the "CA SBDC SSC Training Project";
$100,000 supplemental funding from the U.S. Small Business Administration for the "Orange County/Inland Empire SBDC Network 2016"; and 
$45,000 from the Humboldt State University Sponsored Programs Foundation for the "SBDC E-File Program."  Related story: Supporting Entrepreneurs
Dawn Macy, director of the Center for Internships and Community Engagement: $79,609 from AmeriCorps in support of the Jumpstart Program.
Laura Gil-Trejo, director of the Social Science Research Center:
$84,998 from the Regions of University of California, Santa Cruz, "to support the Research Compenent of a Young-Adult Focused Integrated Voter and Civic Engagement Learning Community in California";
$78,200 from Groundwork San Diego – Chollas Creek for "EnSEED (Encanto Social-Economic and Environmental Education Development) Survey";
$57,399 award from Harder & Company Community Research for "County Public Health Diabetes Survey";
$32,676 from the RP Group for the "Joyce Foundation Academy for College Excellence (ACE) Study"; and
$26,260 from the University of California, Santa Cruz, for the "Youth Health Study Follow-Up Survey and Ongoing Contract Information Update."
Natalie Tran, professor of educational leadership: $70,000 Highline School District 401 award for the "Vietnamese Literacy Development Project 2016-2017."
Joseph Carlin, assistant professor of geological sciences: $55,000 from the American Chemical Society Petroleum Research Fund for "Linking Decadal-Scale Changes in Continental Shelf Sediment Accumulation."
Debra Rose, professor of kinesiology: $53,307 Irvine Sensors Corp. award for "Psychometric Evaluation of the Balance Augmentation and Tracking System."
C. Jessie Jones, director of the Center for Healthy Neighborhoods and professor emeritus of kinesiology: $50,000 St. Jude Medical Center award for the Center for Healthy Neighborhoods.
Yinfei Kong, assistant professor of information systems and decision sciences: $47,511 award from the University of Southern California for "Detection, Understanding and Reduction of Latino Health Care Disparities."
Brenda Bowser, associate professor of anthropology: $37,224 California State University, Channel Islands award for "Survey and Documentation of Historic Archeological Resources at Channel Islands National Park."
Sheryl Fontaine, dean of the College of Humanities and Social Sciences, and Corrine Decapite, FIRST director: $27,000 from the Santa Ana Unified School District for "SAUSD FIRST (Fullerton International Resources for Students and Teachers) 2016."
Mark Ellis, professor of secondary education: $24,000 from the Trustees of the California State University/Stuart Foundation for "California Teachers Summit Alignment With the Preparing a New Generation of Education Initiative."
Natalie Fousekis, professor of history and director, Center for Oral and Public History: $18,000 from Cal State Dominguez Hills and $16,000 continuation award from the CSU Dominguez Hills Foundation for the "California State University Japanese American Digitization Implementation Grant." Related page: CSU Japanese American History Digitization Project, Fullerton Collection
Binod Tiwari, professor, and Beena Ajmera, assistant professor, both of civil and environmental engineering: $15,000 award from the Rensselaer Polytechnic Institute for "Mixed Reality and Mobile Gaming for 21st-Century Engineering Education."
Dorothy S. Woolum, professor emeritus of physics: $14,300 subcontract from the California Institute of Technology for "Elemental Analysis of Solar Wind and Technical Enabling of Genesis Objectives." Total award to date under the subcontract is $54,600.
Rachel Clanahan, assistant professor of nursing: $4,841 American Nurses Foundation award for "Understanding LVN Utilization, Supervision and Workload Impacts in Schools."
Dawn Person, professor of educational leadership: $4,000 award from the University Corporation at California State University, Monterey Bay, for "Preparing School Psychologists to Effectively Support English Language Learners and Migrant Students Through Mentorship and Technology."