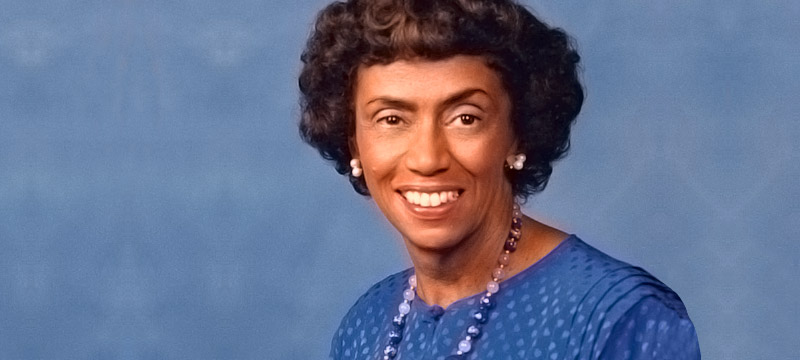 Jewel Plummer Cobb, the third president of California State University, Fullerton, died Jan. 1 at the age of 92.
The first African-American woman to lead a major university west of the Mississippi, Cobb served as CSUF president from October 1981 to August 1990.
"The quality of the classroom is our overriding concern," Cobb said during her final convocation address as CSUF president in September 1989. "Instruction is the cornerstone of what we do at Cal State Fullerton."
Her presidency was notable for her success in obtaining funds for the construction of several new buildings on the campus, including science lab and computer science buildings (constructed with state funds), as well as the Ruby Gerontology Center — the first building on campus constructed with donated funds.
She also obtained state bond funding for the construction of the first on-campus student residence halls that, today, bear her name. The fact that students of all ethnicities are residents was a source of pride to Cobb, who had lived in segregated dorms when she first entered college.
Cobb also guided the negotiations for an agreement with the Marriott Corp. and the city of Fullerton for the lease of campus land for construction of a hotel — the first partnership of its kind for a public university. The agreement provided funds for a sports complex on campus.
In addition to securing the funding, much of the planning for the Science Laboratory Center, now known as Dan Black Hall, was completed while Cobb was president.
During her administration, the university also served as a venue for the 1984 Summer Olympics.
Cobb established schools for communications, and engineering and computer science, opened a satellite campus in Mission Viejo, established a university endowment fund, and actively promoted science education among minorities and women. She enhanced existing programs for disadvantaged students, such as the President's Opportunity Scholars program, and supported the establishment of a minor in women's studies.
However, her most important contributions as president may have been her emphasis on research and scholarship. She established the University's first endowed professorship and forged ties with universities abroad that created the earliest overseas student and faculty exchange agreements.
"She was such a role model for women, so accomplished and a joy to work for," recalled Norma Morris, staff assistant emeritus to the president. "She loved students and did so much for them, especially underrepresented students."
In his remarks at the retirement dinner held in her honor, John W. Bedell, professor emeritus of sociology and then-chair of the Academic Senate, noted: "She is a strong advocate of academic standards and high quality. In her view, if we do not serve our students well and expect much of them, they do not become what they could be …"
He added: "Jewel's leadership has been of substance … she provided balance between tradition and innovation, balance between efficiency and warmth, balance between town and gown. Yet, at all times she has kept the needs of the students our reason for being first and foremost in the minds of all of us who are part of what we call "'The Fullerton Family.'"
Cobb began her career in academic administration in 1969 at Connecticut College, where she served as dean of arts and sciences and professor of zoology until 1976. That year she became dean of Douglass College at Rutgers University, where she also was a professor of biological sciences.
The granddaughter of a freed slave, Cobb grew up in Chicago as the daughter of college graduates — a doctor and a teacher. She read widely and began to focus on biology while in high school. Although she came from a middle-class background, because of segregation, she attended underfunded public schools reserved for blacks.
When she began classes at the University of Michigan, she found that black students were segregated into one dormitory. She transferred to Talladega College in Alabama, where she earned her bachelor's degree in biology. She then accepted a fellowship to teach and study cell biology at New York University, where she earned her master's degree and doctorate in cell physiology.
In 1949, while still in grad school, Cobb was named an independent investigator for the Marine Biological Laboratory at Woods Hole, Mass. She then held prestigious postdoctoral fellowships at the Cancer Research Foundation of Harlem Hospital, Columbia University College of Physicians and Surgeons and the National Cancer Institute.
In 1954, she married Roy Cobb, an insurance salesman. They had one son, Roy Jonathan Cobb, and later divorced.
Cobb's research focused on skin cancer and in particular the ability of melanin to protect skin from damage. She also examined how hormones, ultraviolet light and chemotherapeutic drugs could cause changes in cell division.
Over the years, she was awarded more than 20 honorary doctorates, as well as a Lifetime Achievement Award from the National Academy of Sciences, among numerous other honors.
Featured as a leading woman in science in various books and publications, Cobb also was included in "I Dream A World: Portraits of Black Women Who Changed America," a 1989 book and exhibition that debuted at the Phoenix Museum of Art and traveled to other galleries during a two-year national tour.
In 1989, she was appointed by Willie Brown Jr., then-speaker of the Assembly, to serve on the Competitive Technology Advisory Committee for the Commerce Department. She also served on the U.S. State Department Advisory Committee on Oceans and International Environmental and Scientific Affairs, as well as various civic and corporate boards of directors.
Following her nearly nine-year stint as president of CSUF, Cobb served as trustee professor at Cal State Los Angeles, where she was principal investigator of the ACCESS Center.
When asked in 1990 how she would like to be remembered, Cobb told Diane Ross, CSUF professor of physical education and then-president of the Association for Women in Science, writing for its newsletter: "I think I'd like to be remembered as a black woman scientist who cared very much about what happens to young folks, particularly women going into science."
In addition to her son, she is also survived by her granddaughter, Jordan, and daughter-in-law, Suzzanne Douglas Cobb.
Cobb had been living in Maplewood, New Jersey, and suffering from Alzheimer's disease.
A biographical video, including comments from her son, can be viewed here.
Services are pending. In lieu of flowers, donations can be made to the Jewel Plummer Cobb Scholarship Endowment online or by check, payable to CSU Fullerton Philanthropic Foundation, Account #92010. Please mail to 2600 Nutwood Ave., Suite 850, Fullerton, CA 92831.