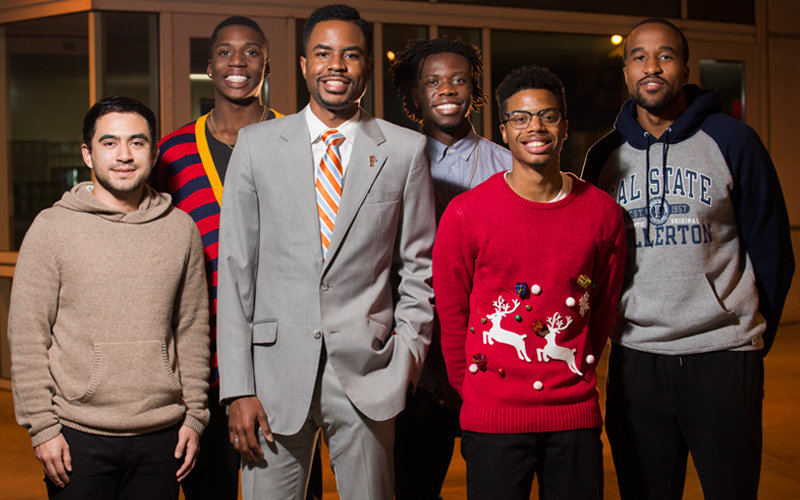 Vincent T. Harris recently landed his "dream job" as the director of Cal State Fullerton's Male Success Initiative (MSI). In this role, Harris hopes to bring his research and passion for helping men of color transition through higher education.
A first-generation college graduate, Harris earned a bachelor of arts degree in mass communication at Auburn University in Alabama, a master of education degree at Ohio University, a doctor of philosophy degree in educational leadership and research at Louisiana State University, and most recently completed a postdoctoral fellowship in higher education at Harvard University.
What is the role of the Male Success Initiative at CSUF?
MSI began as a pilot program three years ago to better understand the state of men of color at CSUF and to explore ideas about what they need to be successful. We have been piloting it for about three years, and now it's time to take it to the next level.
The program aligns with the second goal of the CSUF strategic plan to "improve student persistence, increase graduation rates Universitywide and narrow the achievement gap for underrepresented students."
Our urgent need will be to provide services for our black and Latino male students, whose graduation rates both nationally and at CSUF are significantly lower than other cohorts. But that doesn't mean we won't eventually get around to supporting anyone who falls under the umbrella of manhood. We want these groups to know that CSUF is a place where they can attend and succeed.
What are some challenges male students of color experience?
I met with about 30 students last fall, one-on-one, to hear about their experiences and develop a sense of what they wanted and needed from MSI.
Some of the barriers they shared, either at CSUF or in their lives away from campus, were miseducation of law enforcement, absence of a community of support, lack of resources and guidance, lack of dedicated study space, negative perceptions about men of color, not enough collaboration among different cultural groups, high cost of rent in surrounding areas and other financial concerns.
In our conversations, students also shared that what they want is to better understand career pathways, engage in meaningful dialogue about taboo topics, attend leadership conferences, mentor little brothers at high schools, help the community and learn about self-care, time management, health care and financial literacy.
How will MSI work to address these needs?
Our immediate focus will be to provide services to underserved black and Latino males that are top-notch and vetted through an anti-deficit research lens in the areas of academic support; leadership, engagement, enrichment and development opportunities; career planning; and explorations of gender and masculinity.
In addition, we plan to award 15 new scholarships for incoming freshmen who qualify in fall 2017. The goals of the scholarships are to alleviate some financial barriers, enrich their student experiences and add to the retention of men of color at CSUF.
It's important for us to realize that although MSI is here, it truly is an institutional responsibility to address the needs and support the causes of all of our student population. What I see MSI becoming is a place where any male of color who attends CSUF can achieve the fullness of his potential.
The MSI program currently is housed in Room 179D of University Hall. For more information, contact 657-278-4071 or msi@fullerton.edu.