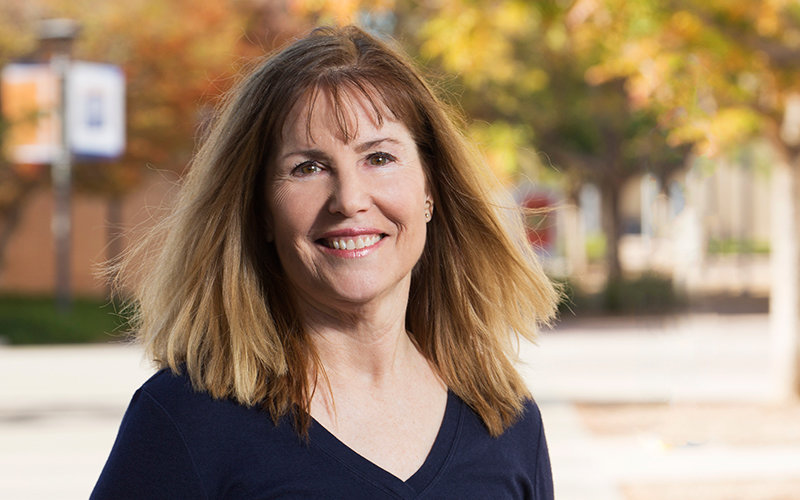 For Ruth H. Yopp-Edwards, teaching has been at the core of her being throughout her 40-year career as an educator.
The Cal State Fullerton education professor and former elementary school teacher is a role model and mentor to scores of students, as well as future and veteran teachers. Her passion is creating and transforming learning experiences to prepare California's teachers to meet the needs of all students.
"Teaching is rewarding, it's meaningful, it deepens my understanding of and appreciation for the human experience in all its diversity," said the CSUF alumna. "It allows me to learn every single day and to share that adventure with others."
Because of her dedication and contributions to her academic discipline, Yopp-Edwards has been selected to receive California State University's 2017 Wang Family Excellence Award. She is one of five recipients from the CSU's 23-campus system — four faculty members and one administrator — who will be recognized at the Jan. 31 CSU Board of Trustees meeting.
"I am surrounded by dedicated colleagues who contribute greatly to student learning, to the betterment of society and to the advancement of their disciplines," said Yopp-Edwards, who will receive a $20,000 cash award, established through a gift from CSU Trustee Emeritus Stanley T. Wang. "I am grateful to collaborate with them, proud to work beside them and surprised to be honored with this award."
In her nomination of Yopp-Edwards for the prestigious systemwide honor, Cal State Fullerton President Mildred García emphasized the professor's "sustained record of the highest levels of achievement in teaching, scholarship and service. Her impact on students, the University, the profession, and the local and broader community has been nothing short of extraordinary."
Lisa Kirtman, dean of the College of Education, offered additional words of praise, calling Yopp-Edwards a leader, scholar and colleague who is deeply committed to the education of young learners.
"She has mentored, equipped and empowered CSUF students to become successful teachers and educational leaders, who, in turn, have touched the lives of thousands of preschool- to 12th-grade students."
Yopp-Edwards, professor of elementary and bilingual education, earned her bachelor's degree in psychology followed by a master's degree in education-curriculum and instruction at CSUF. She began teaching upper elementary grades in the Brea-Olinda Unified School District in 1977 and was selected as a 1985 Orange County Teacher of the Year. She earned her doctorate in education from UC Riverside, joined CSUF in 1986 as a full-time lecturer, and the next year, she became a tenure-track faculty member. Over the past three decades, Yopp-Edwards has played a significant role in advancing teacher education at CSUF and across the CSU system.
"Dr. Yopp-Edwards has partnered with, and guided campus, community and CSU colleagues in this high calling, and her scholarship has helped to shape education policy and practice throughout California," noted Kimberly A. Norman, chair and professor of elementary and bilingual education.
During her tenure, Yopp-Edwards has received external grant awards and contracts totaling about $10 million, in addition to about $2 million from the Chancellor's Office for CSUF's Teacher Recruitment Project. She has co-authored six books, authored or co-authored 41 articles and presented more than 100 papers or workshops at professional conferences. She also serves on several national and international editorial advisory boards for professional journals. In addition, she has received numerous accolades, including inductee to the California Reading Association Hall of Fame and CSUF's Jewel Plummer Cobb Diversity in Education Award, and is a former chair of CSUF's Department of Elementary and Bilingual Education.
Her research centers on literacy development, which she points out is fundamental to success in school, to lifelong learning and to thoughtful civic participation: "It's crucial that we understand how best to support children's development as readers, writers and language users. Opportunities to explore powerful literature that reflects diverse perspectives and experiences are key to promoting readers' motivation, engagement and success with text, as well as their understanding of the world."  
One accomplishment she is most proud of is research she conducted on the use of nonfiction books in early childhood classrooms with her identical twin sister, Hallie Yopp Slowik, CSUF professor of elementary and bilingual education and a 2002 Wang Family Excellence Award recipient. They contributed to a growing body of evidence that young children's opportunities with this type of text were very few, both in schools and at home.
"I am pleased our work helped bring attention to this important component of early literacy instruction and to a shift in literacy education in the last decade," she said.