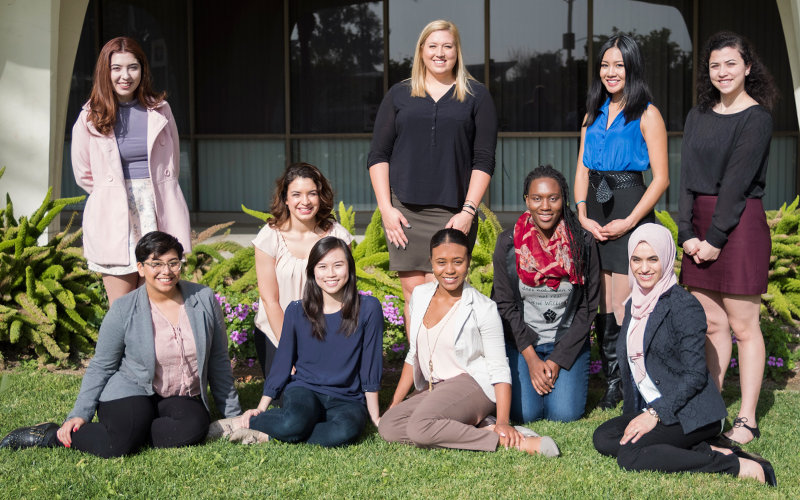 Cal State Fullerton is one of four campuses nationwide to participate in the BOLD Women's Leadership Network, an initiative led by female university presidents who have demonstrated a commitment to collaboration, innovation, diversity and inclusion.
The goal of the program is to support and engage 10 female students at junior class level by providing scholarships, mentoring and retreats to help them develop leadership skills, and transform themselves and their communities in the process.
The University's first class of "BOLD scholars" will each receive a $25,000 scholarship for the next two years to cover the cost of tuition fees, as well as room and board. This coming fall, incoming community college students who will be starting their junior year at Cal State Fullerton will make up the second cohort.
The BOLD Women's Leadership Network is funded by the Pussycat Foundation, a private foundation established by Helen Gurley Brown, the longtime editor of Cosmopolitan magazine. Upon graduation, each woman will be eligible to apply for a "Helen Gurley Brown Fellowship" to fund employment at an organization that embodies BOLD's values.
English major Destiny Martinez is a member of the inaugural group. "Even though we just started, I am already seeing the results in myself and others," she said. "This program allows us to express ourselves and establish the foundations of our identities, as well as challenges us in our beliefs. I feel more confident about myself and my skills in being able to achieve my goals."
"Working with a site program coordinator and members of the senior staff in collaboration with BOLD staff, BOLD scholars are chosen because they exhibit exceptional leadership abilities, critical thinking skills, a passion for social equity and the ability to facilitate challenging discourse," said Mary Ann Villarreal, associate vice president for strategic initiatives.
For example, Iman Roberts is majoring in health science and sociology. "I knew I wanted to focus on health care and social justice issues. My goal is to continue to grad school and earn a doctorate. I think what makes the BOLD Scholars program so valuable is that it provides a support system and is dedicated to our personal and professional growth. They focus on change and how we can make our voices heard."
Mikaela Francis, a human services major, also hopes to attend graduate school and obtain a master's degree in counseling. As a softball player, she hopes to work with college athletes.
"I am in awe of all the BOLD scholars and women I have met through the program," she said. "It is amazing to be surrounded by powerful and dynamic women — all committed to making strides forward in our society."
"We are very excited about this opportunity," said Millie Aranda, program site coordinator for the BOLD Women's Leadership Network. "We were invited to apply by the foundation and we are the only West Coast university to participate. (The other three campuses are Millbury College in Vermont, Smith College in Massachusetts and Rutgers University in New Jersey.) I think we were selected based on our reputation of launching new programs with success and because of the strong leadership of our own president."
Each BOLD cohort will meet weekly with a designated faculty mentor during their last two years of study. Each group will be responsible for developing a transformational project. The faculty mentor and student group can each apply for an additional $10,000 award to pursue their project goals.
Dinorah Ortiz, a psychology major with a double minor in Spanish and child and adolescent studies, has been involved in student leadership previously and believes BOLD Scholars brings together women with different backgrounds and unifies them to serve as advocates.
In addition to the scholarship and mentoring, the University is working to develop a two-to-three-week summer international course of study for the scholars.
Finally, Cal State Fullerton will receive $10,000 for what is called Bridge-Up Scholars. In this program, the University will focus on first-year freshmen to build engagement. Current BOLD scholars will, in turn, mentor these younger students.
One of the reasons that health science major Sandra Belat fell in love with Cal State Fullerton was because of the diversity of its student body. "It's incredible to walk around the campus and see such a diverse group of students," she said. "What has been amazing to me about the BOLD program is to see how many wonderful female leaders there are on this campus. It is so rewarding to feel their support."
"BOLD Scholars are dynamic, courageous and thoughtful student leaders who aim to make an impact on this campus, in their communities and around the world," said Villarreal. "The 10 extraordinary Titan women selected already personify these traits, and I am confident their participation in the program will further inspire them to 'Reach Higher' to achieve their academic goals and life dreams."