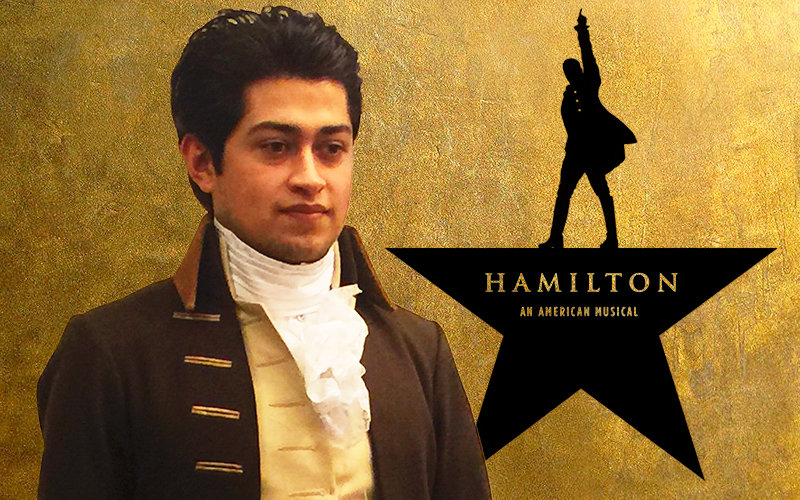 Meet the latest graduate of King's College…. Oops! Make that Cal State Fullerton. Titan alum Rubén Carbajal '15 (B.F.A. theatre arts-musical theatre) just landed a plum role in the national touring company of the Broadway smash hit "Hamilton."
In the show, which opens in San Francisco March 23 before heading to Los Angeles, Carbajal plays the dual roles of John Laurens (one of Hamilton's best friends) during the first half of the play, and then Philip Hamilton (the son of Alexander Hamilton) during the second half. In fact, when we first "meet" Philip, he introduces himself with the line: "Meet the latest graduate of King's College."
Rehearsals for the new cast began in mid-January and run six days a week for eight-plus hours a day. And while Carbajal says the rehearsals have been "crazy busy," he wouldn't have it any other way.
Okay, for starters, how big a "Hamilton" fan are you?
There are no words to describe how big a "Hamilton" fan I am. My Instagram, Twitter and Facebook accounts reflect how much I care about "Hamilton." I could go on for hours and hours about it. I've been following the show since Lin-Manuel Miranda rapped some of it in front of President Obama, and the video aired on YouTube in 2009.
What were the auditions like? Were there a lot of call backs?
Auditions were crazy, for lack of a better word. I went to the open call in Los Angeles in April. I think about 1,000 people showed up. It was just a general call, so I brought my own song to sing. After singing once, they asked me to go to a different room and sing again, so I figured that was a good sign. It was sort of like "American Idol." I then flew to New York City for what turned out to be four call backs. I sang for the orchestrator/music supervisor and the director. At my final call back May 24, I not only sang for the director and music supervisor but the producers and … wait for it … Lin-Manuel Miranda! The creator of the show! I had a few more auditions after that. I actually had a total of ten auditions all together for "Hamilton."
You play two very different characters. Is it difficult to go from one to the other?
It is difficult to immediately switch, but since each character has a beginning, middle and end, the transition is straightforward and allows me time to be able to switch gears.
Prior to the audition, were you able to see the play in New York?
The first time I saw the show was Nov. 13, 2016. More than a year since it had
been running on Broadway. Now it's impossible to get tickets! I was very lucky.
You've met Lin-Manuel Miranda. Have you met any of the other original cast
members?
I got to meet Christopher Jackson, who played George Washington during my call-backs in May. He gave me advice that calmed my nerves and helped me to focus on being truthful in my audition.
How long will you tour?
I have a contract to tour for about 12 months. After the 12 months are up, we'll see what comes next — whether it's renewing the contract, doing a new musical or being on a TV show. What I do know is that this opportunity is opening doors for me.
What's the most difficult part of this role?
I think the most challenging part is staying vocally and mentally healthy. I, along with the rest of the cast, sing the entire show! We hardly get a break and performing eight shows a week is tough. I just make sure I do my part to make the show run as smoothly as possible.
What do you most enjoy about being in the production?
Learning. Definitely learning. I tell myself that every person I meet and interact with has something to teach me. Learning what the show means, not only to my cast and the creative team, but the audience as well, is what really interests me and makes the job enjoyable. It's amazing how much impact art can have.
Were there any CSUF professors/staff members who were especially helpful to you?
Definitely. I came to CSUF with such an open mind and I wanted to learn as much as possible. I just absorbed the information given to me. My professors in the B.F.A. program definitely had the greatest impact on me: Mitch Hanlon, Eve Himmelheber, Bill Lett, Macarena Gandarillas, Svetlana Efremova-Reed, Mark Ramont, Jim Volz … just to name a few. Oh, and Jeremy Lewis. He'd kill me if I forgot him. These professors all helped to prepare me for what I am going through now, which is the biggest job I've booked. They do a great job of not only prepping the performer, but also preparing the mind of the performer.
You performed at the Chance Theater in "In the Heights," also written by
Lin-Manuel Miranda! What was that experience like?
I loved being in that show! It was my favorite musical and it was a show I had wanted to be in since I saw it at the Pantages in 2010. I actually saw Lin-Manuel Miranda as Usnavi, the lead role, and met him at the stage door after the show. I remember telling him he was my idol and then I took a picture with him. But yeah, "In The Heights" at the Chance Theater was my first show outside of school, so it was an unforgettable experience that helped me grow professionally and mentally … It was also the first musical I saw where I thought, "Hey, I could fit in this show. The people look like me, I understand the language and I understand the traditions within the story." You know, sadly, there aren't many options for Latinos in entertainment that don't involve violence or drugs, so to see "In The Heights" and how they focused on culture and family, was huge for me.  
Is there any advice you would like to give to those considering a theater career?
To anyone currently pursuing a career that they are passionate about, whether it be in arts or not, don't let anyone tell you that your dreams are not attainable. Only you have the power to make those dreams come true. Find the balance between working as hard as possible to get where you want to be and letting things fall into place. Everything happens for a reason.