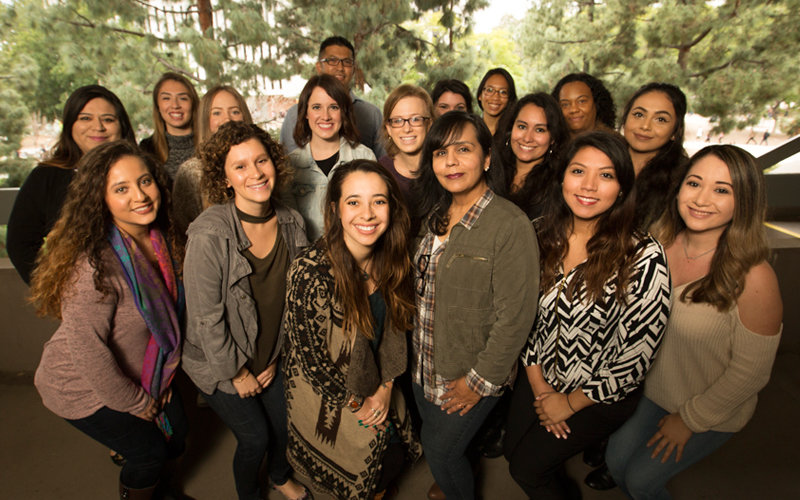 For the seventh consecutive year, Cal State Fullerton's master of social work program has received more than $1 million in Title IV-E federal funding to tackle a nationwide shortage of child welfare workers.
Its latest award of $1,472,590 will provide educational stipends of up to $18,500 per year for full-time students who commit to work for a minimum of two years in a public child welfare agency after graduation. Part-time students also are eligible to receive stipends.
"One of the huge problems in the field of child welfare is the size of caseloads and the nature of the work — it's very emotionally draining," said David Chenot, chair and associate professor of social work. "There is a shortage of child welfare workers nationwide, and job turnover is really high."
More than 150 CSUF students have received support through the UC Berkeley-based California Social Work Education Center (CalSWEC) child welfare program since 2009. One such recipient is Daniel McKinnis '10, '12 (B.A. psychology, MSW), who now serves as a senior social services supervisor for Orange County Social Services Agency (OCSSA).
"I always knew I wanted to go into a helping profession," said McKinnis. "Both my undergraduate and graduate programs at CSUF, as well as the special training I received as part of the CalSWEC program, really prepared me for life as a social worker."
As a supervisor, McKinnis oversees a team of seven senior social workers who each carry a caseload of 25 clients. Some of his responsibilities include training and consulting with social workers, reviewing information and reports presented to court, ensuring families are receiving appropriate services, and supporting staff in the areas of career development and self-care.
"I began my career at OCSSA as a senior social worker, but was promoted after three years," said McKinnis. "I don't think I would have promoted so quickly had I not been a CalSWEC recipient and had my MSW."
Most CalSWEC students at CSUF complete two years of field work at OCSSA even before graduation, says Duan Tran, lecturer in social work and CalSWEC program coordinator.
"We're one of the few schools in the state that has a two-year placement model, which really helps because you can only learn so much in a year," said Tran. "We want students to have a very good sense of what to expect in their careers."
"Two years in a public child welfare agency, actually doing the work, is about as realistic a job preview as you're going to get," echoed Chenot.
To combat the high turnover rate, CSUF faculty are equipping students with more skills to cope with emotional exhaustion and vicarious trauma.
"Our faculty are really focusing on self-care, self-awareness and mindfulness, so students have a strong understanding of how to avoid burnout," said Tran. "This is important as there's a big push on the federal level to hold on to really good social workers and also to inject more qualified social workers into the field of child welfare."