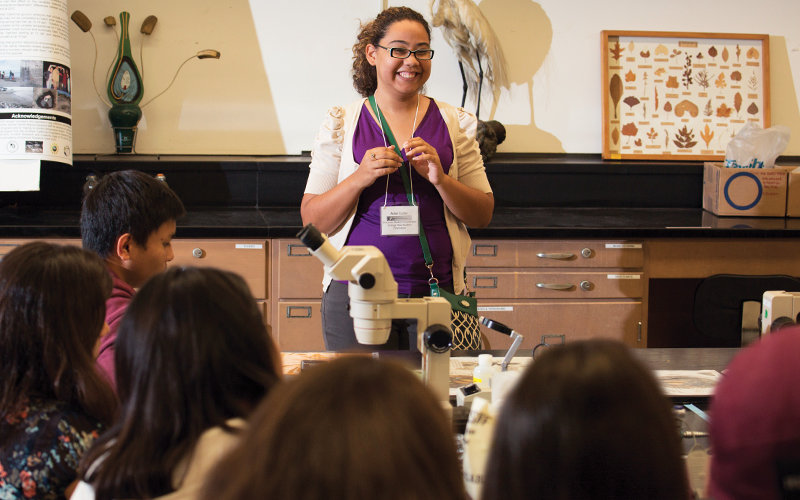 In high school, Mark Bibian's literature teacher, Mrs. Johnston, inspired him to consider a career in teaching.
Bibian recalls reading Mary Shelley's "Frankenstein," a novel from 1818.
"She encouraged us to view the world differently and relate it to events that were current," says the Cal State Fullerton junior. "I want to show my students what makes literature timeless and relevant, just as Mrs. Johnston did for me in my adolescence. Her passion for literature was reflected in the way she taught it to her students."
In his sophomore year of college, Bibian became an English major and committed to becoming a high school English teacher. Today, he is on an academic pathway to earn his bachelor's degree, while also taking the prerequisites for the University's single subject credential program in English. Completing the prerequisite courses will enable Bibian to gain competency in the subject matter and transition into the one-year teacher preparation program after he graduates.
By becoming a teacher, Bibian also will help address the shortage of teachers needed for California's classrooms. The state — and nation — are facing a teacher shortage, mainly due to the recession, severe school district budget cuts, teacher layoffs and retirements.
School districts statewide projected the need to hire more than 22,000 teachers in 2016-17, yet only about 15,000 new teaching credentials were issued, according to the California Department of Education.
"At Cal State Fullerton, we're taking the approach of not just filling the need for more teachers," says Lisa Kirtman, dean of the College of Education. "We want to make sure these teaching positions are filled with strong, qualified teachers — educators who are prepared to be excellent teachers, who believe in just, equitable and inclusive education, and who are skilled in integrating technology in the classroom."
Addressing the Shortage
To tackle this workforce gap and recruit and prepare quality pre-K through 12th-grade teachers, the College of Education is deploying a range of strategies and innovative programs. These include strengthening recruitment efforts to high school and undergraduate students; promoting a clear academic path to teacher preparation programs; offering professional development workshops to boost teacher retention; providing student-teacher mentorship opportunities; and increasing the number of underrepresented students in the teaching profession.
"We're trying to identify students earlier in the pipeline — even before they come to Cal State Fullerton — to remove barriers to becoming a teacher," says Aimee Nelson, director of the Center for Careers in Teaching. "The pathway to the teaching profession is unique in California, so we must connect students early with support and guidance." Typically, teacher candidates in California must first earn a bachelor's degree and then enter a postbaccalaureate teacher preparation program — often a five- to seven-year process — to teach at the elementary, middle school and high school levels.
To address the challenges facing teacher recruitment and retention, the Center for Careers in Teaching conducts routine outreach and recruitment efforts at local high schools and community college campuses. "This approach gives students a more detailed picture of the teaching profession and the time to make decisions about their future career path," Nelson says. 
It also provides incoming freshmen and undergraduates with information about prerequisites they need to complete for a seamless transition into one of the University's teacher preparation programs. A new mentorship program also pairs undergraduates across all majors with local veteran educators so students can gain insight and exposure to classroom teaching before entering a credential program.
Finding ways to help students prepare and pay for the state tests required to enter a teaching credential program and offering financial aid options also are some of the solutions the college is exploring to help recruit future teachers, notes Kirtman. Additionally, the dean has started her own personal recruitment efforts by giving informal presentations to campus student clubs and organizations.
"I want undergraduates to know about the great rewards in teaching," she explains.
Diversity in the Classroom
Another pressing issue facing education is the lack of diversity in the profession, Kirtman adds. Cal State Fullerton is one of 10 U.S. institutions participating in the Black & Hispanic/Latino Male Teachers Initiative, part of the American Association of Colleges for Teacher Education's "Networked Improvement Community" aimed at improving the nation's schools. The center's goal is to recruit 25 percent more black and Hispanic men in the University's teacher credential programs by fall 2017.
"With the number of students of color in California and Orange County schools continuing to grow, we need to focus on recruiting and preparing a diverse teaching force," says Nelson. "This, in turn, can inspire and draw more underrepresented students into teaching careers."
Through this effort, underrepresented students like Bibian are receiving mentorship from black and Hispanic teachers in local classrooms to foster professional networks in school communities, as well as deepen their commitment to enter the teaching workforce.
"As a child, I noticed there weren't very many males in the field of teaching — and in particular, there were not many Latino males," adds Bibian, who is of Mexican descent. "It felt almost like an obligation for me to step up and enter the profession so students will actually have a teacher who looks like them."
Equally as important, Bibian adds, "As a teacher, I want to have the same positive impact in the lives of my students as my teachers did on mine."