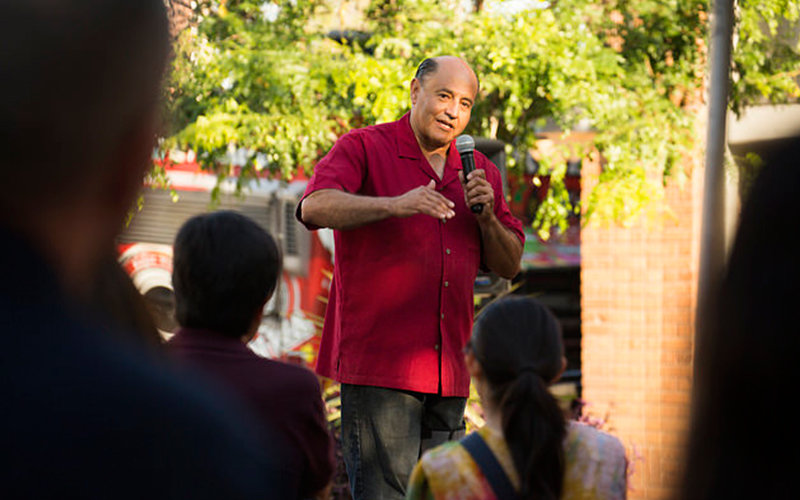 Cal State Fullerton alumnus Lou Correa '80 (B.A. economics), the newly elected congressman representing the 46th Congressional District, will be sworn in at a 4 p.m. Wednesday, Feb. 22, community ceremony at the Grand Central Art Center in downtown Santa Ana's Artists Village.
The swearing-in will be conducted by Orange County Superior Court Judge Frederick P. Horn, and the invocation will be given by Bishop Kevin W. Vann of the Roman Catholic Diocese of Orange. The program will include performances by the Thiên Ân performing group and the Santa Ana High School Choir and Mariachi Band.
The former state senator for California's 34th District has been a longtime supporter of his alma mater. "Cal State Fullerton gave so much to me," said the veteran legislator who represented central Orange County in Sacramento for 16 years. "This educational institution gave me the skills to pursue the American Dream."
In addition to his CSUF degree, Correa holds a juris doctor and MBA from UCLA. He is licensed with the California Real Estate Board and the California State Bar.
Correa has been a force in Orange County politics since 1998 when he was first elected to the state Assembly. After three terms in the Assembly, he was elected to the Orange County Board of Supervisors in 2004 and to the state Senate in 2006, serving two terms. He termed out of office in 2014.
As a state legislator, Correa was known for his articulate and passionate advocacy for higher education, in particular, the California community colleges, the CSU and the UC systems.
In 2015, Correa was recognized with the University's Distinguished Alumnus Award.
The Grand Central Art Center is located at 125 North Broadway in Santa Ana. (Parking is recommended in the structure on 3rd Street and Sycamore.)
RSVPs are encouraged for the event. For more information, contact the Office of Government and Community Relations at 657-278-4730 or brvargas@fullerton.edu.